I'm always on the look out for attractive and functional water fountains for my cats. If you've never had a water fountain for your cats you might seriously consider investing in a good one.
There's something very attractive to cats about free-falling water. Those who have cats who dig drinking from facets know what I'm talking about. And it just so happens the circulation of water from the fountain infuses it with oxygen, making it fresher and tastier, encouraging greater consumption. Additionally, a ceramic or steel fountain can eliminate cat acne caused by plastic bowls and fountains!
I can't lie, I was particularly attracted to The PetSafe Drinkwell Avalon Pet Fountain in Red
 because of its color. But it didn't hurt that it's made of ceramic which molds much more slowly than plastic resulting in better tasting water for longer, and the need for less frequent cleanings.
When I first took all the pieces out of the box I will admit I was momentarily intimidated by all the pieces. But assembly was remarkably simple, and it's been one of the easier fountains to maintain. I haven't had to wash it very often, and when I do, the construction allows for hassle-free cleaning.
Here's a video of the fountain in action so you can hear it.
Admittedly it's not the quietest fountain I've had, but I don't find the sound bothersome. It's like having a small rockgarden-type waterfall in the kitchen.
If red isn't your speed, The PetSafe Drinkwell Avalon Pet Fountain also comes in white ceramic
.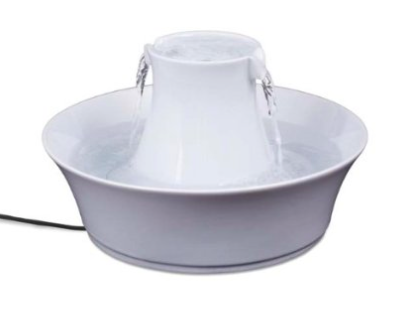 Oh, and the folks at PetSafe wanted to be sure I posted this video of how to properly clean the product. Sometimes people think the motor is broken when it really just needs to be fixed!
Which one of you already uses a water fountain of some sort for their cat(s). Did you notice they drank more water when you made the switch?