Last year's post "8 Terrible Holiday Gifts For Cats" was such a hit I decided to reprise it for 2013. Just to be clear, these are the gifts your cats do NOT want to find under the Christmas Tree (if you're bold enough to put up a tree that is!).
1) Tiaras 
As Grumpy cat would say. "NO."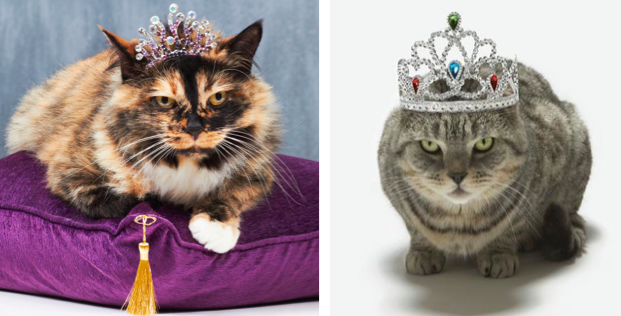 The most likely reaction you'd get from your cat will resemble that of the tabby (above right) and  you'll forever have to sleep with one eye open.
What could possibly necessitate a cat requiring a bedazzled tiara or crown anyway? Is he or she in The Cat Universe Beauty Pageant? Does that even exist?
Even if you were to invest in one, how many seconds is that thing realistically going to stay put on said cat's head? Come on people, this is what Photoshop is for!
2)  Sasquatch Pet Bed  (aka hideous oversized Croc knock-off)
As if Croc's weren't ugly enough on people, now we need oversized ones to place in our home for our pets?  And really, they picked the name sasquatch (aka Bigfoot)? I get it, it's literally a shoe for a big foot, but it's named it after a large, hairy half man/half ape?
No thanks!
3) Neuticles – fake testicles 
Yup, you heard me right. These are replacement testicles for pet that gets neutered. According to the website, "Neuticles allows pets to retain their natural look, self esteem and aids the pet's owner with the trauma associated with altering."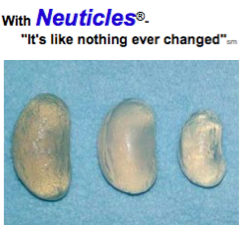 My absolutely favorite part of the website was the FAQ section where they pose the question "Can Neuticles be implanted in people." This means people have actually asked it this question – like more than once! The answer is no (but only because it hasn't been FDA approved!).
As ridiculous as I find these to be, if it gets people to neuter their pets then that's something. But truly,  your pets do not need testicles for sself-esteem. Just give them extra loving and treats!
4) Kitty Sweaters 
I realize this will make me unpopular with some. I understand there are cats who get cold and require clothing (e.g. Sphynx, cats with health conditions) or the rare cat who don't mind. But let's be honest. You're average cat will act paralyzed when you put any sort of clothing on it (Yes I've tried, but purely in the name of science!).
For the most part, sweaters are for the delight of the owners, not the cat.
 5) Pawlish  – Pet nail polish by O.P.I
According to Wikipedia, "In 2003, OPI launched a nail polish line for dogs called Pawlish that received mixed reviews." Hmmmm, I wonder why?!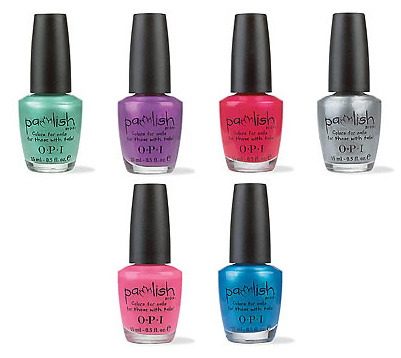 While marketed mostly to dogs, it was also sold to felines. It seems currently eBay is the only place to find it.. But given it's level of ridiculousness I had to include it on the list. At least Soft Claws serve a purpose and prevent declawing, but this is purely decorative (file under: pet owner entertaining him/herself at the cost of animal).
6) Cat Foot Mops
I this product in a book of Japanese inventions. Let's hope it never makes it out of the prototype phase!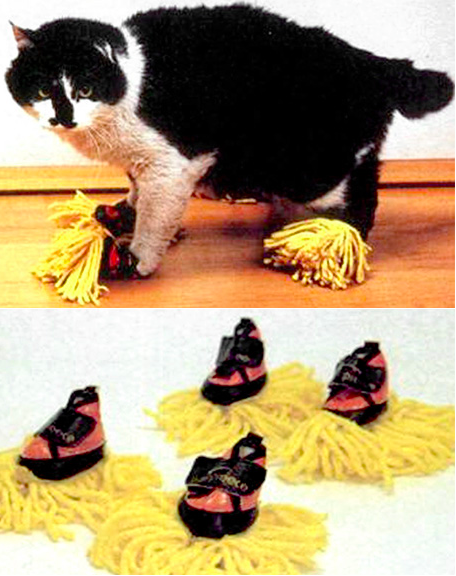 7)  Inflatable Unicorn Horn For Evil Cats
Just when we thought we'd seen it all – last year we featured the white inflatable unicorn horn –  it gets better. Or worse. Introducing the black inflatable unicorn horn for evil cats.
First off, did they have to use a black cat on the box? Or that Hissy black kitten in the promo shot? Don't black cats have enough to deal with?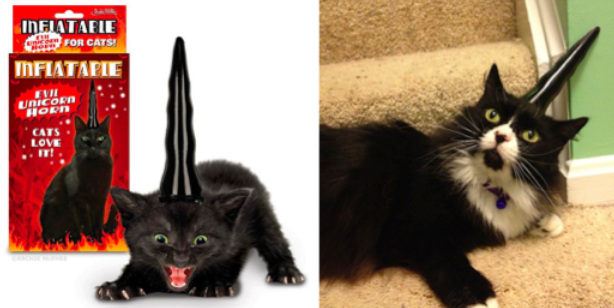 And just look at that poor black and white cat (above right). He's like "What did I do wrong Mommy?" He doesn't look evil in the least! Dumb dumb dumb. But once again, I do have to wonder how they kept these on the cats long enough to photograph!
8) Tattoos for Your Cat
Potentially the worse idea of all time. Apparently it's all the rage in Russia. We can only hope it never comes stateside. I would hope animal rights groups would be up in arms!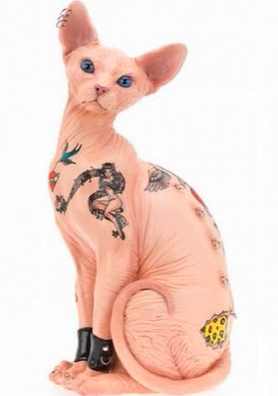 So there you have it. This year's 8 stupidest cat gifts. I'm sure there more – what did I miss. Please share. We must know what to avoid getting our cats!