See that little photo of Petie on the right hand side of the blog? Well if you click on it (or the one in this post below) you'll be taken to a list of posts featuring our favorite things to help you gifts for the modern cats in your life.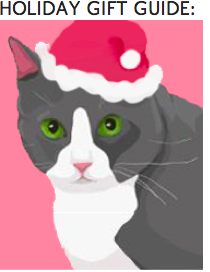 In addition, I wanted to  highlight a few special discounts being offered to I HAVE CAT readers (some for a limited time given we're so close to Christmas, so be sure to check them out asap so you don't miss out!).
Felt Planet – Sells adorable wool felted cat shaped items like coasters, mouse pads, placemats and more! 15% discount code.
Oskar & Klaus Online Store – Lots of great products brought to you by two of your favorite famous cats all at 10% off (and 20% of sales go to rescue groups!)
Polydactyl Cats – Free shipping and a bonus catnip toy from this super original cat toy shop (think Chinese food!).
Feline Yogi – Special $5 off the Yoga Cat Mat Toy using the code IHAVECAT101 through the end of January 2014 (order by Thursday to make it for Christmas in the US!).
SturdiBags – Love these lightweight pet carriers. Get 10% off your order,  or shop this Friday December 13th  for even more savings!
Custom Body Pillows – 25% off customized pillows (of your cat of course!)
Xenotees – Adorable minimalist cat designed pillows, sweatshirts and totes – 10% discount code.
ModaPet – 20% off modern, candy colored pet bowls.
Life With Tigers – If you haven't seen these unique catnip toys you have to check them out (some might call them a tad grotesque but I find them quite original). And now you can get them for 20% off!
Captain Feline – Blending pop culture with cats on t-shirts and prints, now you can get 20% through to the end of December off with code IHAVECAT.
Cat Crib – aka the kitty hammock, gives your cat a private place to hang out without junking up your home with yet another cat accessory! Now you can get 20% off!
So have a wonderful holiday where ever you are and whatever you celebrate! Hope you enjoy these special discount codes! And make sure to check out all the other cool products in the I HAVE CAT Holiday Guide.