I first became aware of today's Cat Woman Wednesday, Brit Sonja Farrell, when I happened upon her blog post, "Debunking The 'Crazy Cat Lady' Stereotype."  Talk about the perfect way to get my attention! Only later did I learn she's also the founder of a company specializing in luxury cat collars called Cheshire and Wain. She was kind enough to gift one of her beautiful handmade holiday collars to Kip, and I must say he looks quite handsome in it (photos at end of post). 
Should you care to treat that special cat in your life this holiday season, Sonja's offering IHC readers Free Shipping through 12/25/13 to the US and Canada by using the code 52D90070 (order by 12/13/13 to guarantee delivery by Christmas!). 
Without further ado, I present to you a loud-and-proud cat lady who is anything but crazy!
Some things that potential boyfriends/husbands should know. My cat, Mr Percy Peter Wells to you, comes first. If you don't like him you better learn to love him or at least become convincing enough at providing him love and attention when he asks for it. You must not have a problem with him sleeping at the end of the bed or even on my head. He likes to do that.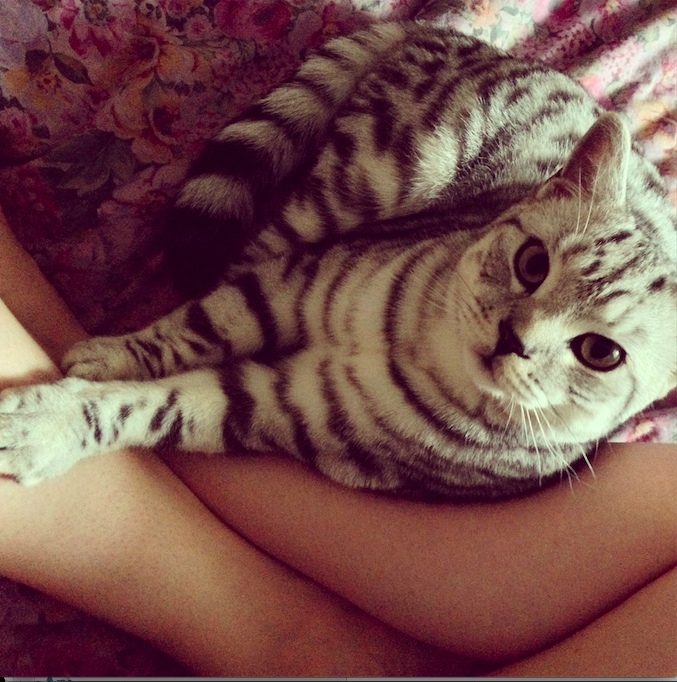 You must never say anything horrible to him. Your body language is communication enough without verbal confirmation. And yes, he does understand 'human." If you insist on calling yourself a 'dog person' you are creating a virtually impossible task for yourself at gaining my affections.
Percy will know if you are wrong for me and he will tell me. I'm afraid that if this turns out to be the case we may no longer see one another, as you will have failed an important test. You should know that cats have always been a big part of my life so it's important for me to know for sure whether you like them or not.
I guess you've worked out by now I'm a pretty serious cat lady. But dare to call me crazy and you've got another thing coming!
I've always loved cats for their individual and complex personalities as well as for their almost mystical presence. I admire that you have to earn a cat's love and affection, and then work hard to sustain it. They make such fantastic companions and are a joy and a comfort to have in the family.
They do what they want, when they want – sometimes they will sigh and make you feel like you've deeply offended them. Other times they'll destroy your sofa or bring you decapitated 'presents.' They know how to cheer you up when you're feeling down, they don't mind doubling as a furry hot water bottle when it's cold outside. They're fantastic manipulators but they know we're on to them and accept that fact.
They've learned how to live in harmony with their 'humans' but haven't lost their independence as a result. I like dogs too but I always think that if they could speak they would run around the park yelling "yeah yeah yeraaaahhhh yaaaa yeah yes yes yes yeah yea."
Cats would have a much wider vocabulary.
I suppose my love for cats all started when I was about six. My first proper cat friend Hattie and I used to spend our time acting out scenes from The Lion King. It's a good thing she was so tolerant during the hold-Simba-up-in-the-air-to-see-his-kingdom-scene or my good relationship with her might've been short-lived!
Hattie had a litter of six kittens, three sets of twins (after which she was fixed!). I think the fact that cats can have one litter from multiple cat flings is brilliant.
Just imagine the potential soap opera story lines if that was the case with humans too! We kept two of the kittens from Hattie's litter – a big footed ginger cat called Cracker (or Big Daddy Ginge) and a tabby called Tommy.
Cracker and I became the best of friends and he didn't mind playing The Lion King with me either. He's 19 years old now and the only remaining kitty from the friends I grew up with. He's blind in one eye and looks like a wise pirate – I'll be absolutely devastated when he passes away.
I got Percy early this year whilst working at an advertising agency in London. It was a great place to work but the hours were long and I was itching to get away and start something of my own. I was putting money aside until I came up with a viable business idea and shortly after acquiring Percy came the inspiration!
I was finding it hard to find high quality, mind fully designed cat products in the UK and was frustrated by the rubbish that was being made abroad – especially scratching posts which would fall apart in a matter of days. I wanted to start a company based on integrity and a true love and interest in cats.
I wasn't interested in making a ton of money, I just wanted to give Percy nice things and make those things available to other cat owners that love their pets as much as I do. I wanted to give something back to our feline friends. I also wanted to design a luxe range of leather collars which would include a hidden breakaway buckle – a collection that was safe, stylish and made to last.
I set up Cheshire & Wain a few months ago and work from a small desk in my living room, designing new products, finding small-scale makers and suppliers, writing articles for my blog and taking multiple pictures of Percy being a little poser – seriously my phone is full of them! At the moment you'll find the Cheshire & Wain luxury cat collar range on www.cheshireandwain.com. Each one is handmade in London and comes complete with suede lining and gold-plated falconry bell.
I'm in the process of designing lots of new products; a new collar line, organic catnip toys, lambskin beds and a scratching post that doesn't resemble a pile of old carpet! So be sure to check back over the next few weeks/months.
I suppose I'm quite an optimistic person, I believe you can achieve whatever you want to achieve as long as you are passionate enough about succeeding. People's reactions aren't always positive when I tell them what I do. I have been called a 'crazy cat lady' more times than I care to count. But with my optimism comes a determination to build a successful small business, helping to re-define the modern cat lady as a far cry from 'crazy.'
There were so many awesome photos of Percy here are a few more bonus extra shots! Enjoy!