Last Thanksgiving I wrote a post on the concept of Thanksliving, and the year before that told of my trip to Woodstock Farm Animal Sanctuary where I celebrated a vegan Thanksgiving. This year I thought I'd mix it up and have the cats share the things for which they are most thankful.
Well let's just say it threw them for quite the loop. They looked at me rather dumbfounded as as they were completely unaware they were supposed to be grateful. (cats!)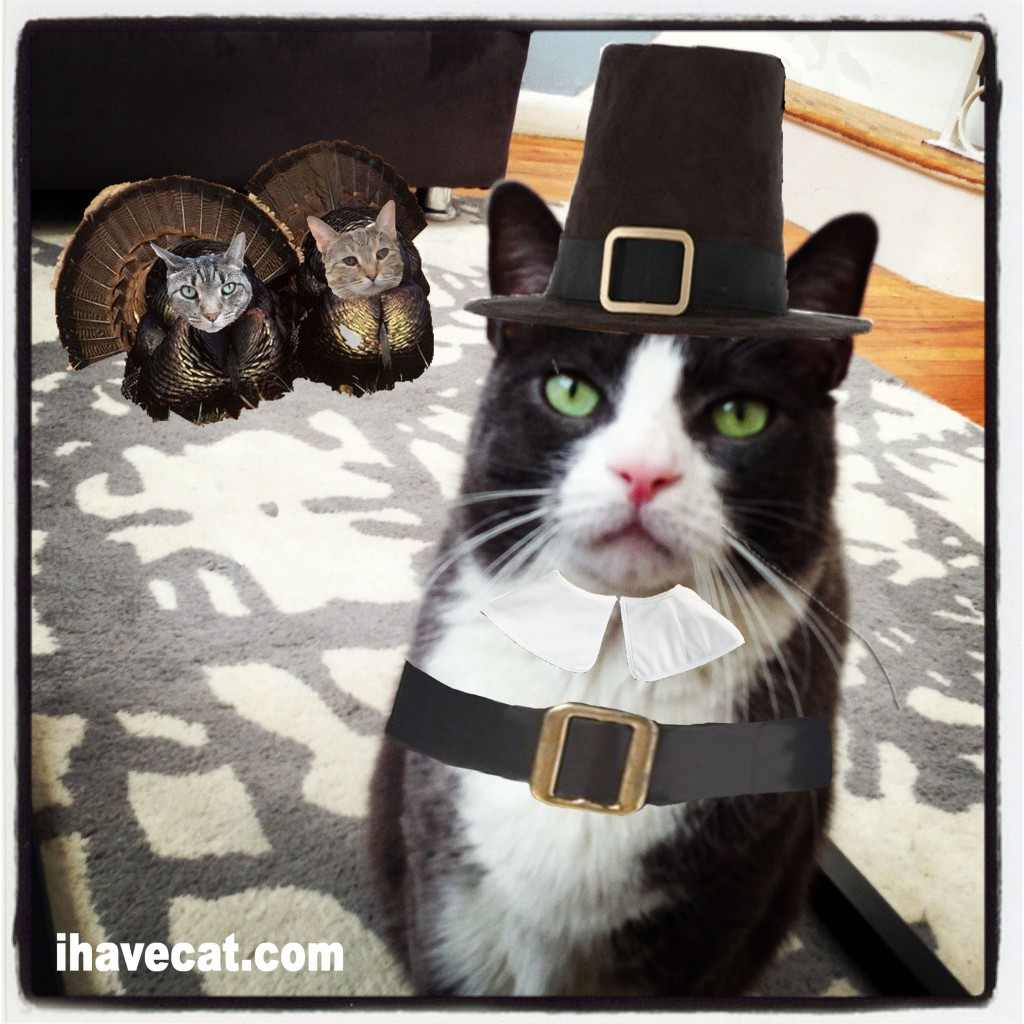 After I explained the concept to them and did a bit of prodding, I was able to pull quite a few things out of them for which they are in fact thankful (what do you think you're cats are thankful for? be sure to leave a comment):
A comfortable home in the heart of Manhattan (okay I added the last bit)
Sunpuddles and warm laptops
That I don't dress them up
A dearth of mice and cockroaches (they confessed they wouldn't know what to do with them – great!)
The occasional ration of kibble (which they get when I'm out of town to make life easier on my neighbor who looks in on them. Hmmmm maybe they're grateful for when I'm out of town?!)
For 6am so they can start bugging me for breakfast (I'm not sure why they think this is OK – it's way too early!)
When I forget to put the Greenies and Temptations back in the microwave for safekeeping (which results in a sad looking, mangled, tooth-marked, empty treat bag)
Kip is particularly thankful for the relatively newly reupholstered chaise lounge on which to sharpen his claws (grrrr!) and for the opportunity to sniff and root around guest's handbags and luggage
Haddie professed gratitude for her boyfriend Kip despite his bouts of aloofness (boys!) and for the times I don't corner her and vigorously clean her crusty eyes with my fingernails
Petie is grateful for his hiding spot in the closet, strangers purses to sit on as well as loving time after my showers and at bedtime (before Haddie interrupts us!)
House guest who bring snacks and catnip toys and play with them
Loving time on their terms (this means not being picked up under any circumstances!)
As for me, I've had a trying year. Though I know intellectually I have so much to be grateful for at times it's been absolutely impossible to feel. Gratitude is something I need to work on recognizing and holding onto on a daily basis. Life is too short, and I need to focus on seeing the good.
What I do know is that I'm so very fortunately to still have my Mom and Dad with me.  Not to mention a sister who I know loves me very much (and who got engaged this year!).
And I'd be remiss not to take a moment to thank my dear friends Sharon, Rebecca, Christina, Brad and Phil. You've each been there for me in your own way. Your patience, support and just presence have meant, and continue to mean a lot. Whether it's talking to me when I'm up-a-tree  (metaphorically speaking of course!), sitting in the park, or having a Chai Latte at Starbucks. I'm lucky to have you in my life and I appreciate you all.
Not to mention all of you out there in the cat blogosphere – fellow bloggers and IHC fans alike – who have are always here reading and commenting and tweeting. Your readership and kind words mean a lot.
And last but not least. Though I've had my bouts of resentment while cleaning the litter box, vacuuming cat hair and thinking about the things I could do if there weren't THREE of you (fantasies of taking off for a few months to exotic locals!). I do love my kitties.
Wishing you all a wonderful THANKSGIVING. Let's all try to continue to recognize the people and things in our life we should be thankful for beyond Thursday 11/28/2013.