I'm so excited to be sharing these clean, modern custom portraits and charms from silhouPETte with you today.  And this post is going up just in the nick of time, because if you order a custom item by this Wednesday 11/27/13 (within the US) you'll receive it in time for Christmas*!
Not only are silhouPETes made in the US (yay! we like that a lot!), but HAVE CAT readers get free shipping within the US on any item purchased between now and  the end of this year (use SPGIFTS at checkout).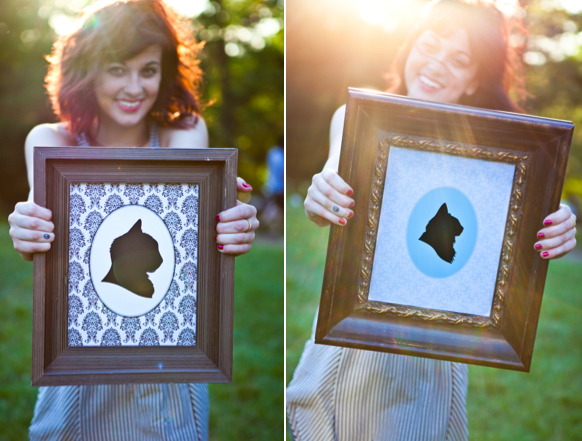 The inspiration for behind silhouPETte came from founder Jessica DiPaola's very own beloved cat Silkey when she was trying to think of creative gifts to give her friends with pets.
"Gazing over at my then 14 year old kitty Silkey, the idea suddenly emerged! I've always adored great profiles and loved examining every little part of my cat's…after seeing her profile, thinking about all the little things that were special to me about it, I turned on my computer and instantly began creating my first pet 'silhouPETte' portrait."
Not only does silhouPETes support our economy by hand crafting their products in the United States, they also believe in giving back to animals. Profits from each sale are donated to VCA Charities' Pet Food Pantry and Gentle Barn, an organization that pairs rescue farm animals (abused, abandoned, neglected, etc.) with at-risk youth, where they rehabilitate each other (AMAZING!).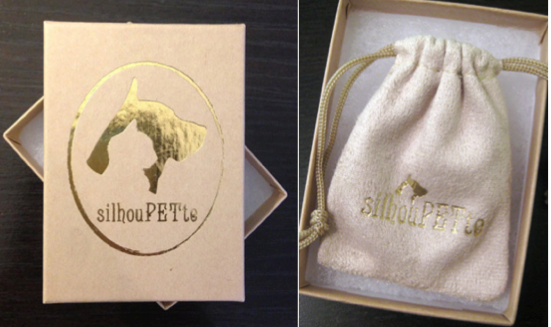 For both the portraits and the charms, silhouettes of each pet are hand outlined by a team member versus being traced or outlined by computer.
The portraits are printed using archival pigment inks on acid-free canvas as well as UV coated and gallery wrapped on a 3/4″ frame. They are available in three sizes (8×10, 11×14, 16×20) ranging in cost from $119-$219 respectively. Plus you can customize further by selecting from a choice of nine differing matting designs.
Custom charms are about .5 tall and come with an 18″ matching chain. They are $169.95 for sterling silver and $179.95 for sterling silver dipped in gold.  You can even customize further by adding your furbabies name on the back for and extra $10! (and check out the classy packaging pictured above).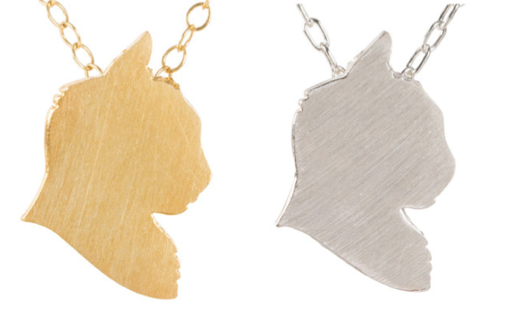 But don't worry, if you aren't able to order by Wednesday, you can still get one of the standard cat charms (pictured above) in time for the holidays ($69.95 sterling silver and $79.95 dipped in gold). They take about 3 days to ship domestically and two weeks internationally.
And before we go, I must introduce you to Silkey (pictured left), the kitty who was Jessica's creative inspiration. As she writes on her website:
"While I may never be able to cuddle with our little Silkey again in this lifetime, our bond stays alive within me through my craft. As I surround myself with pieces that remind me of her love, I feel complete knowing that she is actually always here. I am endlessly thankful to have had her as part of our family."
How can you help but want to support such a loving cat lady who makes such beautiful pieces?
*Custom items ordered by this Wednesday will arrive before Christmas within the US as long as proofs are approved within 24 hours of receipt. You will receive a proof approximately 24-48 hours after placing your order.