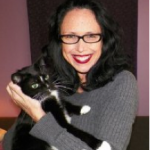 Angie Bailey is a name likely familiar to you in the online cat loving community. She's not only a fellow blogger (Catladyland.net and "Texts from Mittens" on Catster), but also a friend and a fellow Minnesotan!  And as if she wasn't busy enough with her online writing and raising a family, she's just come out with a book titled "Whiskerslist: The Kitty Classifieds" (read on to find out how to win your very own copy!).
Think of Whiskerslist as the Craigslist for cats.  An online resource where cats can find everything from meaningful relationships, flings or missed connections to classes like "the master art of looking away while being photographed," and even a lawyer to go after us for changing brands of litter or posting photos of them in compromising situations!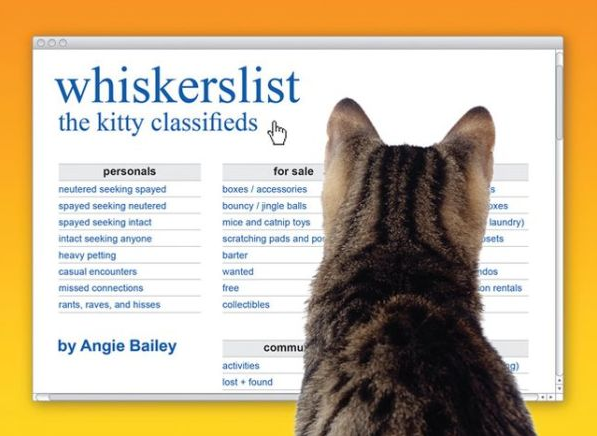 And while this might all seem cutesy and humorous, don't be fooled. Angie believes the larger the Whiskerslist community grows the more control we'll lose as a species. She foresees a time in the near future where they will use their expansive internet presence for retribution, and imagines stumbling across a listing along the lines of:
"Female human for sale: passable lap size, leaves OK amount of food unattended on kitchen counter shoes moderately stinky buys crappy toys…make an offer. That time is not that far away, friends."
Yikes!
This book is intended to educate us simple humans about this parallel universe and to make sure we're on-guard for signs of peculiar behavior.
Angie's own suspicions began growing when she'd come home from an outing and notice the laptop was warm and passwords started changing inexplicably.  Her worst fears were confirmed when she discovered the world of Whiskerslist when her cats slipped up and failed to delete their browsing history. Busted!
In the meantime, as a precaution Angie recommends we change our internet passwords and thinks it might not be a bad idea to start buying better cat toys!
When I asked Angie what her three cats were most likely doing on Whiskerslist given what she's seen of their online activity this was her assessment.
To enter to win your very own copy of Whiskerslist just follow the simple guidelines below:
Leave a comment to this blog telling me what you think your cats are doing on Whiskerslist.
Post your comment by 5pm EST Friday November 8th.
Leave a way for me to contact you in order for your entry to be valid (email, twitter handle).
You must be a US resident (sorry!!!).
One entry per household.
If you don't win a copy of this book – or don't thin you can risk it and wait to find out if you do – you can purchase Whiskerslist on Amazon today! Plus, they make great holiday gifts for cat lovers you care about!