A year ago today I was in the dark. Literally. But I sure has heck wasn't alone. Hurricane Sandy had come and in its wake left many of us without water or power (thankfully I had water – cold water but still, water).
If you didn't read it, or just want to take a trip down memory lane, here's the post I wrote on November 2, 2012 in the wake of Sandy. 
Unfortunately I can't find the photo I took of my rations before the storm hit. The picture clearly demonstrated the cats came first in terms of priority. Let's just say it's a good thing for all involved that the power came back when it did, or I may have started eyeing the wet cat food!
The very hip and hipster infested ACE Hotel was the closest place for me to go for electricity, wi-fi and hot coffee during the black out.  It was also the place that inspired me to write – and where I wrote – an opinion piece titled "My Brief Life Among The Have-Nots" that was picked up by the New York Daily News, about a personal revelation.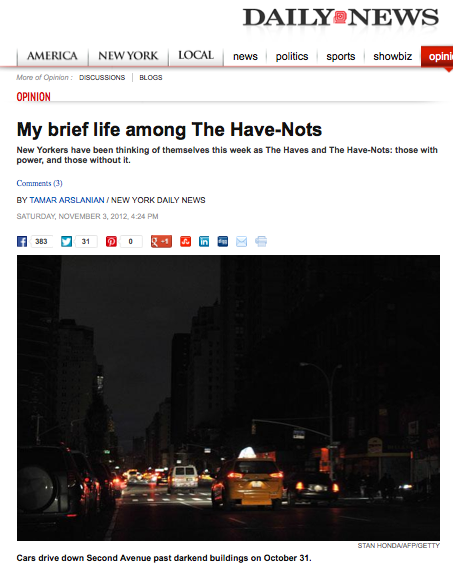 I do distinctly remember being fortunate enough to be dining by candle light with my friend Eugene at i Truilli, a nice local restaurant with a back-up generator, when the power finally did come back on.
Can you believe it's been a year? Do you remember where you were and what you were doing a year ago in the wake of the hurricane?
It's heart-breaking that some areas have so much work yet to be completed before they're restored to how they once were (not to mention the poor folks at the Jersey Shore who just endured a fire that destroyed much of the new restored boardwalk).
In that respect, my article rings just as true for me today as it did a year ago.