Starlit AnnaLynne McCord  – of 9021o fame (the new version) – has paired up with Fresh Step and the ASPCA to unveil both the Catdance Film Festival (Jan 19th, Park City Utah) and a super cute limited-edition cat hat ($39.99) with 100% of proceeds benefiting the ASPCA (a collaboration with knitwear designer, Sunghee Bang.)
And while I can't get a hat or be in Salt Lake city in person to celebrate (I asked!), I was able to ask this cat loving celeb – and new cat mom –  some questions via email I HAVE CAT fans were burning to know (most of which she graciously answered!). Read to the end of the post to find out how you can vote on your favorite cat videos and win prizes like product coupons and even that super cool cat hat!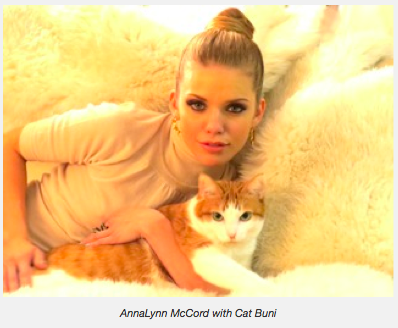 Tell us about your cat Buni.  Where did you get him, how old is he, and how did he get his name? 
I adopted Buni when he was about 8 weeks old. He was the runt of the litter – he'd been left behind. A casting director actually found him behind her house and brought him in for adoption. I wasn't sure about adopting again because I'd lost a couple cats to cancer and one that ran away –  it can be heartbreaking, but amazing as well. Anyway, I decided to adopt Buni and he looks just like a little bunny with his massive ears. He goes by the name Christopher Buni.
How would you describe Buni in relation to yourself? –  Pet, Roommate, Companion, Child, other? And why.
Obviously, I would call him my child. I tell everyone, "I have to get home to my child." He is a cat, but he is my child.
Who takes care of Buni when you are on location or does he ever come to set with you?
I take my Buni with me unless I'm going out of the country. He's a good little traveler. It's so nice to have him on location with me. I actually just did a movie in Ohio for about 6 weeks and he came with me.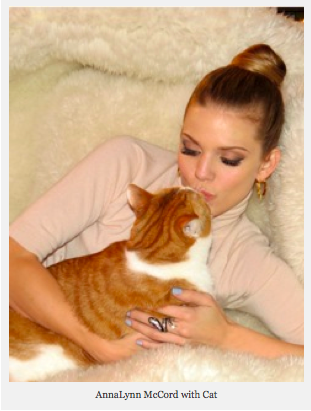 What personality traits do you share with your cat?
Buni is independent and so am I, so we definitely have that in common.
What do you love about cats?
I love everything about cats. I love that they are independent and with the nature of what I do I need a pet that I don't need to take out and walk every day. I love dogs, but it's a bit to taxing for my particular schedule so it's great to have a little buddy that is so okay with his own company.
What lessons have you learned from your cat?
That's an interesting question. I've been having a very interesting spiritual journey in last year and a lot of changes in my life and some of the things that I've been reading and studying talk about being in the now and looking to your dog or cat.  Cats are what they are and sometimes I watch Buni and I watch him in the moment, and I can learn a lot from that.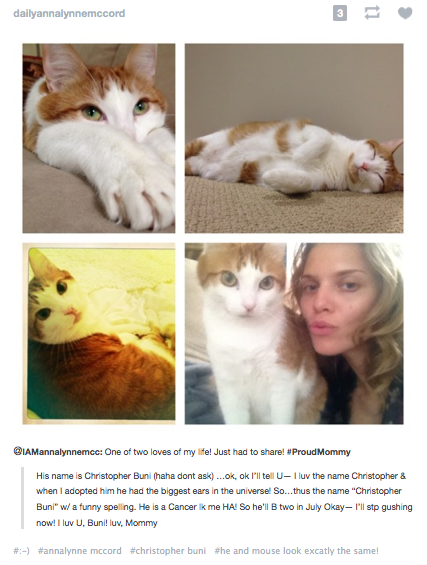 How do you like to spoil Buni?
In every way possible. The best thing that happened to him is that his mother left him behind. He was the runt in the litter and he was left behind. He now has everything in the world and he is definitely spoiled. The mother that he has now will buy him anything in the world.
How did you get involved in the Catdance Film Festival? Tell us about it and why you wanted to take on this project.
I have to admit I'm obsessed with capturing cute home videos of my cat 'Buni', so I am excited to be a part of the Catdance Film Festival which shows off the skilled filmmakers who are actually creating their own short cat cinema masterpieces. We're screening five finalists from our nationwide search and asking America to vote on the winner.
And I don't think that cat pride should be limited to the Internet or screen, so as part of the Catdance Film Festival I'll be debuting the latest in kitty couture –  a limited edition cat-inspired hat.  It's not only stylish, but each purchase helps cats as all proceeds benefit the ASPCA.You can visit freshstep.com to watch the films, cast your ballot and buy the limited edition hat.
What projects are next for you?
I'm actually taking some time off. The show is almost finished for season 5 and I'm going to be focused on some other creative projects that don't require me to be in front of the camera – more so behind the scenes. I also have a couple films I did last year. Watch out for Scorn – a very scary thriller – with Cathy Bates coming out next year, among other projects.
Describe your ideal day spent with your cat.
In bed. Buni and I are most happy cuddled up in bed and doing nothing so that would be my ideal day.
***********
How you can participate in picking the Catdance flim winners and maybe even winning prizes while you're at it!
When the curtain goes down on Catdance, the festival will just be starting.  While the critically acclaimed cat shorts screened at Catdance will each have their moment at the festival, the fans at home will decide which filmmaker will receive a $10,000 cash prize.  To screen all of the Catdance finalists and cast a ballot for the viewer's choice award, visit www.freshstep.com Jan. 20 through Feb. 28, 2013.  All voters will have a chance to win great prizes, including the limited-edition cat hat and Fresh Step coupons.  Other Catdance official selections will also be available on the site for viewer cat-ertainment.