I though today it would be fun to check in with winners of two recent I HAVE CAT Giveaways (be sure to enter our current giveaway if you haven't yet!).
First up, Nala, the beautiful grey and white kitty belonging to NYC Singleton and student Shannon Donnelly who was the winner of a custom portrait by Sarah Menzies (Sarah's also the founder of Cat Tee Mission!).
Drumroll please…
 TADA!
How adorable does she look in her fun, modern portrait?!
Next up, Zack and Zoey, the two very lucky kitties pictured below who won a Tiniest Tiger Tote filled with kitty goodies (we hope they let their Mom Judy use the tote at least!)

Here's the note we got from Mommy Judy with these great photos!
Here are Zack and Zoey enjoying all the goodies. We had so much fun going thru everything. Zoey made sure everything was out of the bag. LOVE the tote.  And we didn't have a Fling-ama-String yet! We will be setting  that up next. Thank you so much for this wonderful prize and getting it to me so quickly. I took more pictures of them but they wouldn't stop moving and wanted to check everything out.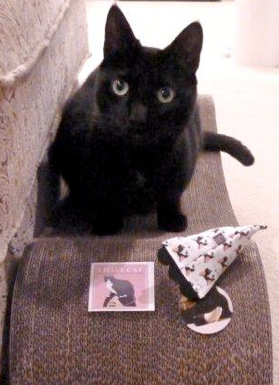 Well look at that. Looks like Zack pulled out his two favorite goody bag items 🙂
If you haven't yet entered, be sure to check out our current Honeycat Costmetics giveaway. It's open to everyone internationally and there will be not just one, but TWO WINNERS selected! You have until 11:59pm on 12/24/12 to enter!