12/11/13: Save 20% by using the code "ihavecat20″20th at check out (valid through 1/15/14). A great deal considering it sells for only $29.00! Standard shipping in the US can be placed through 12/16/13 to make it by Christmas. Expedited shipping would need to be used if placed between 12/16-12/20. Code also good for international orders but no guarantee it will make it before the 24th.
My friend's cat Gator enjoying his Cat Crib, a gift from last Christmas!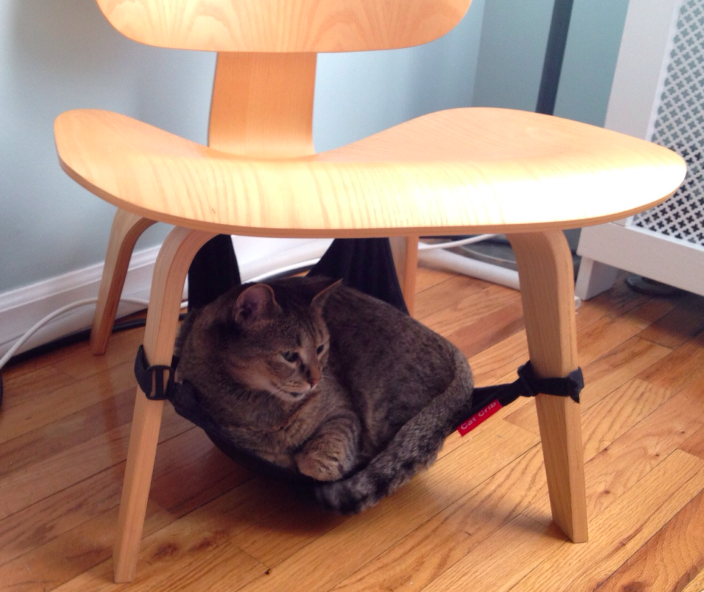 The Cat Crib (aka cat hammock $29) was invented by a cat by the name of Vladimir. It's just a lucky thing his trusty human Greg was around to take notes and help with the prototype (you know, lack of opposable thumbs and all that).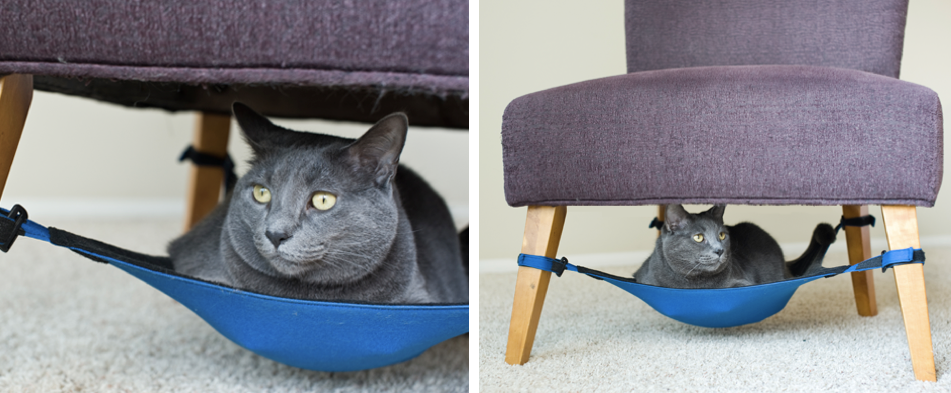 According to Greg, Vladimir loved to chill under the family's purple chair and started clawing the underside.
"One day when I came home from work I called out to Vladimir…after a little searching I noticed a paw casually hanging out of the hole in the lining of the chair.  Vladimir had crawled up into the chair and had fallen fast asleep while laying on the lining – he was actually snoring when I found him.  We thought since he enjoyed that type of setup so much we would make him a more permanent one (and save the lining of our other chairs).  After a few prototypes, the Cat Crib was born!"

Not only do kitties love the Cat Crib it's a great space saver and works with a range of chair and side table sizes (adjustable straps). It's a sturdy polyester weave on the outside and soft fleece on the inside! Of course it's machine washable!
As you can see from the customer photos on the Cat Crib Pinterest page, cats from all over the world, and now your kitty has the chance to win a Cat Crib right here at I HAVE CAT (US and Canada only – sorry!). THIS GIVEAWAY IS NOW CLOSED!

To enter the I HAVE CAT Cat Crib Giveaway: THIS GIVEAWAY IS NOW CLOSED!
Leave a comment to this blog post letting us know what other cat accessory/product you'd like to see re-imagined just as Cat Crib did for the cat bed.
You must leave an email address or Twitter handle to qualify so we can contact you if you win!
Only one entry per household please. Only leave ONE comment.
You must be a resident of (or have a shipping address) in the US or Canada.
Entries accepted through Tuesday Dec. 18th 5pm EST.
Winner will be announced on Wednesday December 19th.

And, if you can't wait to see if you win, or you want to purchase a Cat Crib as a holiday gift, Greg and Vladimir are offering 10% discount off Cat Crib orders in the US and Canada by using the code "ihavecat" at check out through 12/24/12/
And now for some gratuitous Vladimir photos! According to Greg, one of the reasons he adopted Vladimir from the shelter was because of how super laid back he was. These photos make that point (the second one is a tired Vlad after doing some Presidential campaigning!).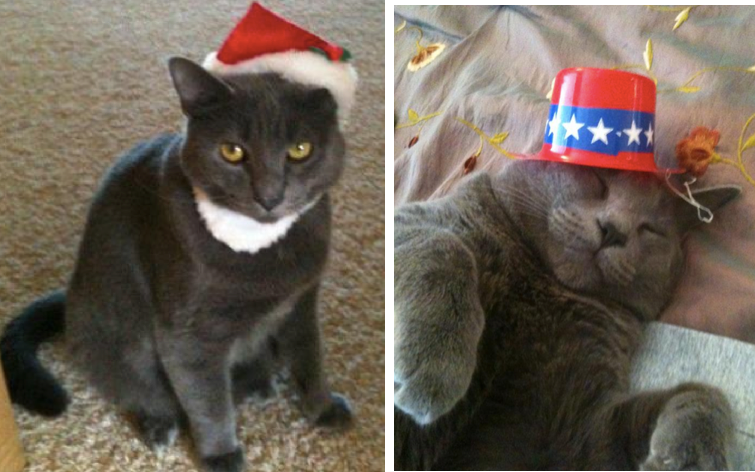 And as far as how he got the name, Greg originally thought Vladimir was a Russian Blue and needed a culturally appropriate name. But it turns out Russia Blue's have blue eyes and Vlad does not. Turns out their "Russian" kitty is really a french kitty, he's a Chartreux! I'd never heard of that kind of kitty – learn something new every day!