I can't remember how I happened upon Ernie: A Photographer's Memoir
(by Tony Mendoza), but boy am I glad I did. I'm pretty discerning when it comes to cat books and cat photography and this one scores on both counts. The fact that Ernie is a grey and white tux living in NYC like my Petie didn't hurt!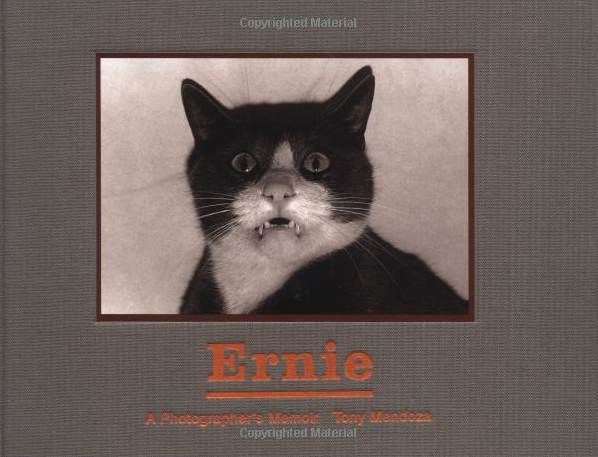 The book tells the story of Ernie and Tony getting to know each other when Tony answers a roommate wanted ad and moves in with Ernie and his mom.  The story alternates between their perspectives, and Tony does an amazing job of bringing Ernie's personality to life as you can see from the photos and excerpts I've included.
Written and photographed by Tony Mendoza, Ernie: A Photographer's Memoir was originally published in 1985, and sold over 100,000 copies. It was in such demand after it went out of print that it was re-printed in 2001.
It's hard to believe when Tony first tried to get this book published it was rejected over 50 times. Many of the editors though Ernie wasn't cute enough! The nerve!
Tony, a photographer by trade, had never lived with a cat before and had no intentions of becoming a cat photographer. But after spending lots of time at home with Ernie, he ended up photographing him every day for two years, ending up with over 10,000 Ernie negatives (remember those?!)!
I can't say enough about Ernie: A Photographer's Memoir, it's one-of-a-kind and the perfect stocking stuffer for any cat lover in your life.
Heck, by a copy for yourself just for kicks – you'll be glad you did!