Today's Cat Man Monday was written by Karen Brazell about her cat-loving business partner Jed Dore. Karen is the designer behind the Severed Leg catnip toy previously featured on I HAVE CAT. Enjoy today's Cyber Monday Edition of Cat Man Monday!
My business partner Jed is an illustrator, an actor and stuntman, a good cook, a musician and a muay thai fighter-in-training. He is also, most unabashedly and without reservation, a cat-man. If he is a superman, cats are his kryptonite.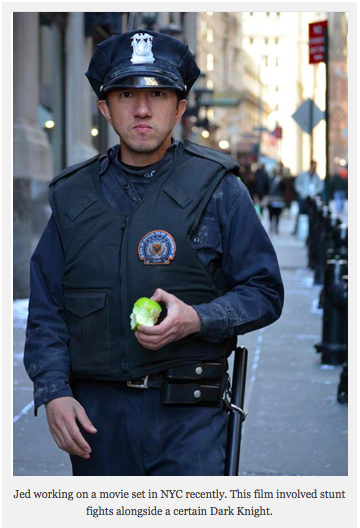 All of Jed's pets, including the three cats in the work studio, began their lives as strays. At one point or another, they adopted Jed and invited themselves into his life.
With Shadow and Ash, the elder twins, it began when they were kittens and Jed built them a tent on his patio to rescue them and provide a place to hide from danger including a pesky opossum (he named it Oskar) who ate their food and scared them.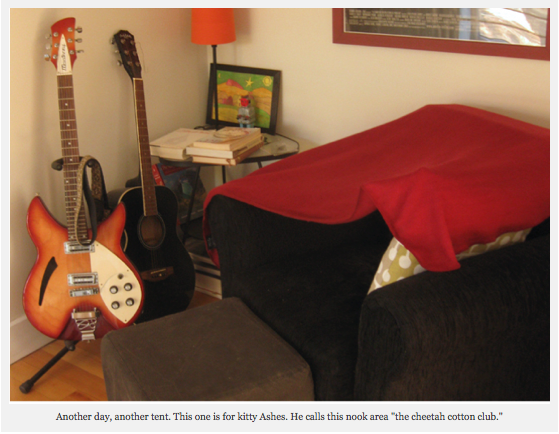 It wasn't long before they wiggled their way inside to become his forever buddies. And all these years later, he still builds tents for them on the sofas every night to keep them warm.
The newest member of the pride is Moo, who was living on the patio space outside our Brooklyn, New York art studio. The furniture had not even been moved in yet, and we were waiting for a plumber to arrive when Jed spotted a tiny stray kitten that looked like a bobcat out on the patio in the 15-degree weather.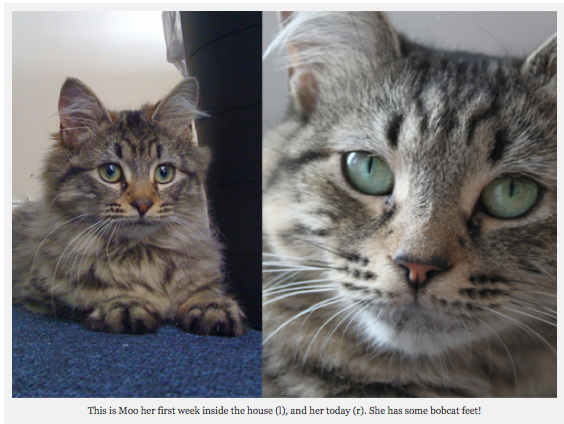 He built her a fantastic insulated cat shelter which she enjoyed very much, especially when it snowed often. Worried for her, he would stick his hand inside to see if she was in there each morning, and a tiny paw would play with his fingers, as if to say "Here I am! Let's have fun!"
It wasn't long before the fur ball decided that indoors was way better than outdoors, and has stayed with us ever since. Jed named her Moo Shoo, because she reminded him of a beloved cat who had passed away a few years earlier, Misha.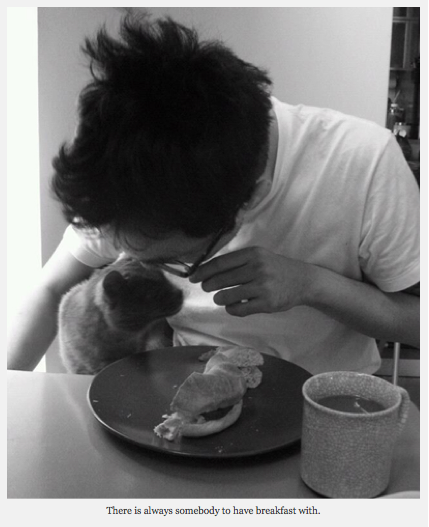 Daily life around a working art studio can be hectic, but there is always time for his feline family.
Now that Shadow has developed arthritis, Jed carries him up the stairs to the litter box to make it easier for Shadow.  Ash has lost most of her hearing, but he gently kisses her to wake her when it's meal time.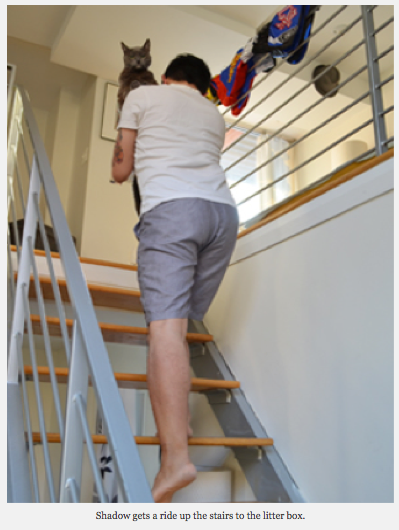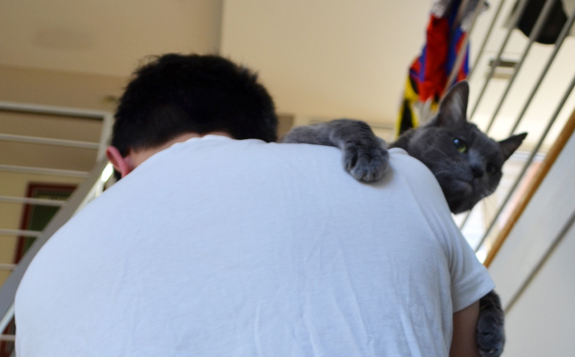 And Moo is a bundle of happy energy, who can amuse herself with dust particles, but also craves Jed's attention so he happily stops working to roll a few balls for her to chase and teach her tricks. Lately he's taught her standing up on two legs and coming when called.
The cats are a great inspiration to his artwork as well. Our company Ink & Sword has a series of graphic art prints titled the "Pet Care Pubic Service Announcements" that detail in simple terms ways to keep your dog or cat happy and healthy.
The "Don't Overfeed Your Cat" print is in direct reference to Shadow's growing waistline!
Jed doesn't have any human children, but considers Shadow, Ashes and Moo his furry kids. I know they recognize his drive to protect and care for them and they love him unconditionally for it.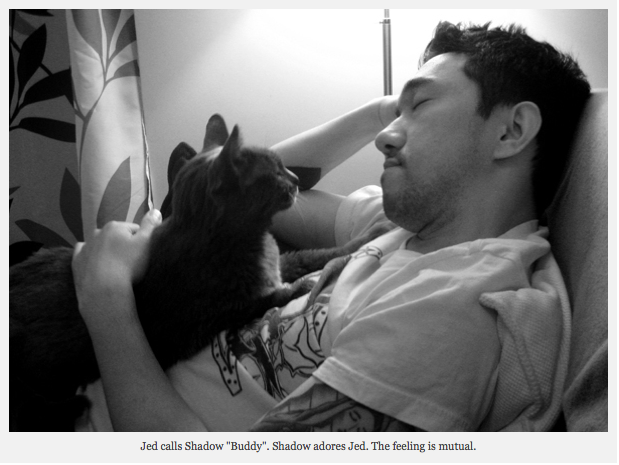 Jed maintains the Ink & Sword blog and runs our Etsy co-operative art print shop at  where he sells those Pet Care PSA art prints as well as other design and illustration work he creates. He often donates art prints to various dog and cat rescue/shelter groups and raises money in animal fundraising events and hopes they will help efforts to find forever homes to deserving pets around the country.