"Nothing tells kitty you love her more than a severed leg."
I had to smile when I read this on the Life With Tigers website.  I've long believed cats are the coolest pets exactly because they are pygmy tigers.
Life With Tigers was founded Karen Brazell, a fellow New Yorker and cat lover (with 3 cats), who started her business crafting cat dolls for humans.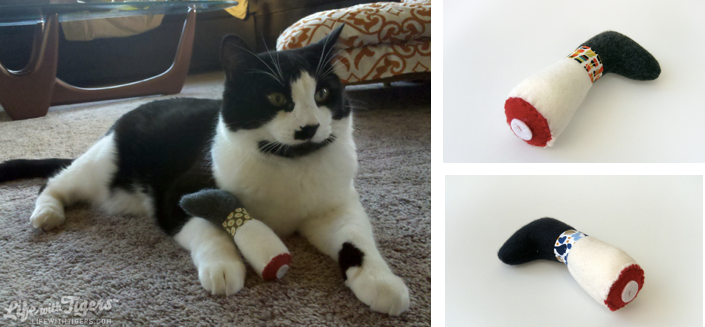 One day a doll leg went missing only to be spotted in the mouth of a, "grey kitty walking around with the leg in her mouth, like a mountain lion who just overtook a jogger."
Viola, severed leg catnip toys were born! And this year they've added a who new set of severed things to their collection, here's just one example:
This year just for I HAVE CAT fans, Karen is offering 20% off all purchases from her Etsy store by using IHAVECAT at check out through December 20, 2013! Good for domestic and international orders.
So don't dilly dally – get one for your little tiger today!  They make great gifts too!