***10/1/12 UPDATE***
Thanks to all the generous cat lovers and IHC fans, we were able to raise enough money to take Mama and her kitties to the vet to be vaccinated.
Mama was fixed this past Friday, and fingers crossed we might have a home for her.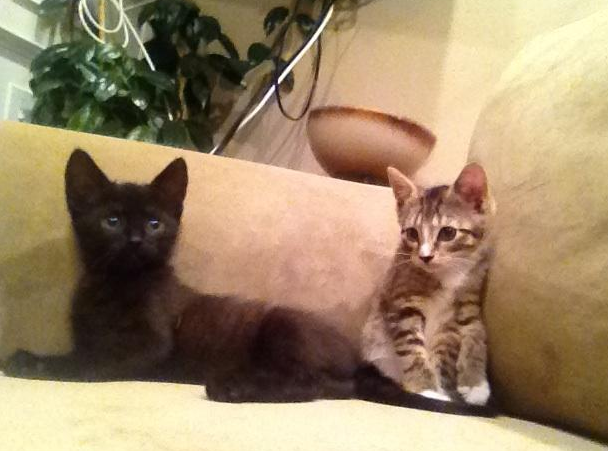 The kittens need a foster or forever home ASAP. Currently foster home is temporary and they cannot stay there any longer (They are in Brooklyn, NY). Email Sarah at missmcqueen11@hotmail.com if you have any leads and please do cross post!
New photos of the kittens at the end of this post!
******
What better way to end Adopt A Less-Adoptable Pet Week, than to help a blind mama cat and her two kittens who need funds for vetting and a foster or forever home.
A friendly 2 years old cat was rescued from the streets of New York City several weeks ago and taken to the vet where it was discovered she was both blind and a new mom! Hoping mama would guide them to her babies, the rescuers put her on a leash and took her back to where she'd been found.  She led them right to her babies who had survived 16 hours on their own!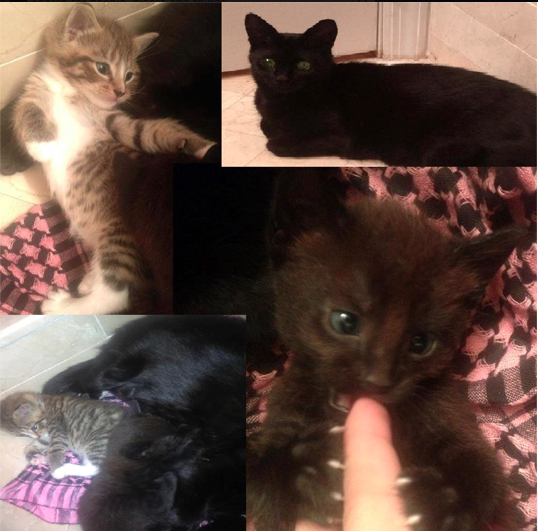 The reunion was emotional as Mama made sure all the babies were there by "counting" them (by feel), loving on them and then nursing them. The kittens are around 8 weeks old now and need to be vetted. While a chip-in has been set up, there have been only $17 in donations this far. I know we can do better than that!
We desperately need to find a group or person who will take them as the current foster is no longer able to keep them. So please share and donate a few bucks if you can spare it.  Those with adoption inquiries please contact Sarah at missmcqueen11@hotmail.com.
Let's use the power of the cat interwebs and help this special needs cat family!
NOTE: If someone outside the NYC area is seriously interested in adopting the sweet blind mama cat, we will work out transportation.