A few weeks ago, while coordinating a night for my sister and I to have dinner with relatives in from the West Coast, I ran through the potential dates in my head.
"September 10th is a Monday, but that doesn't work for me, that leaves the 11th, 12th or 13th…there's something on that Tuesday the 11th…can't recall but I know there's something…damn my terrible memory!"
It was only after we'd made reservations that it hit me. 9/11.  I was horrified it had slipped past me like that. How could I not have realized?
Was it possible that exactly a year after the 10th anniversary, that historic and horrific day was beginning to fade in my conscience? I convinced myself it must have been because I was thinking  "September" in my head instead of referring to the date as 9/11.
Last year, on the occasion of the tenth anniversary, I recounted the day from my perspective, starting with waking up on September 11th, 2001 to the news a plane had hit the Tower.
This year, on the eleventh anniversary I'm sharing photos taken of my visit to the 9/11 Memorial this past July 4th with my friend Sharon.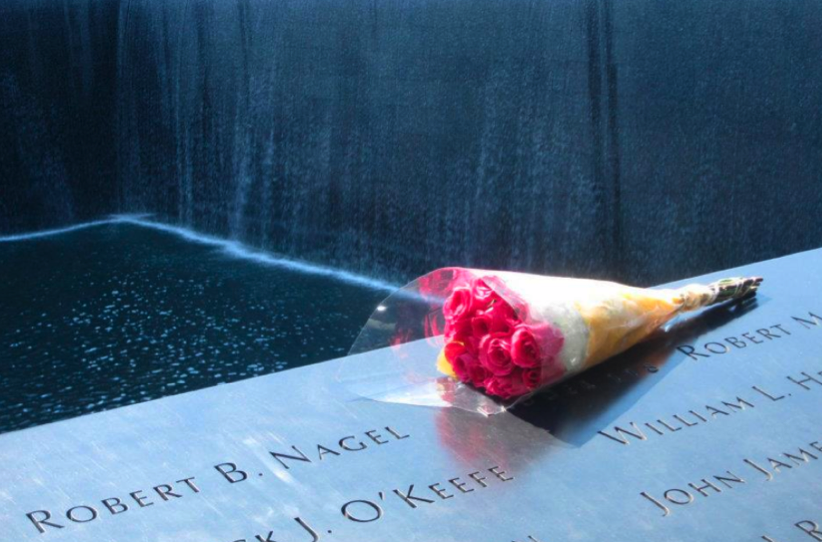 It's still very much an active construction site. Naively, I hadn't considered the possibility of waiting in line to go through airport-like security (what planet am I living on?!).
Being at the memorial is both sobering and peaceful. The Memorial, while mostly under ground, has immense presence. It demands respect.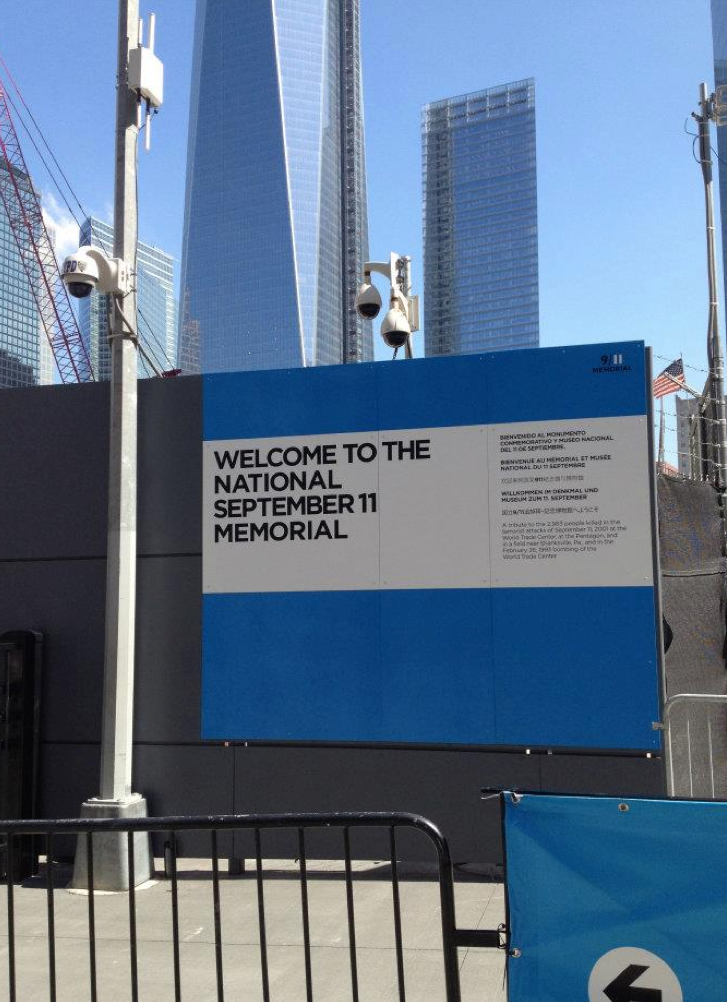 The sound of crashing water is powerful and commands attention. The white noise it creates leaves no room for extraneous thoughts, forcing complete presence of mind.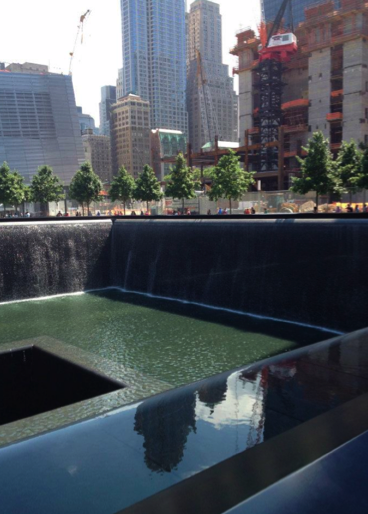 Click here if you don't see the video below.
The Memorial is easy to navigate. Each block of marble denoted by a letter and number. If you are looking for someone's name, you plug it into the kiosk and are directed to a numbered chunk of marble in either the North or South tower footprint.
A sobering discovery were they words "and unborn child" carved into the stone next to the names of pregnant women who perished that day.
(The 9/11 Museum under construction – you can see the Freedom Tower off to the left)
At the memorial's exist stands a lone policeman. In that moment he is every policeman. Tourists ask him to pose for photographs, they shake his hand, thank him and even hug him.
In that moment he is every son, brother and father who lost their life that day. In that moment, I'm proud to be an American. And damn proud to be a New Yorker.