Maru's career continues to develop as the incredibly adorable and plump internet star moves on from hawking cat litter*, to teaming up with Japanese label Uniqlo to announce the brand's arrival to San Francisco.
To celebrate the new store openings, everyone is invited to play "Lucky Cube," an online game in which Maru picks a special prize for each player. If you live in the San Fran area, you could win an item of clothing or a ride in the Uniqlo blimp. But don't worry, out-of -towners can play for a prize too.

I was wondering if they'd actually gotten Maru to pack-up and fly over the Pacific Ocean. It turns out his owner (servant) borrowed a camera and shot the video, in which "Maru is a navigator of the game," herself.
It looks Maru was as intrigued by the white seamless backdrop as the red boxes.
In looking up information for this post I was momentarily excited to learn of a "Maru," a karaoke lounge in New York City. While visitors are encouraged to "shine like a star," sadly the lounge makes no mention of the famous Scottish Fold – or any cat for that matter.
The branding looks a bit familiar though don't you think (Uniqlo maybe?).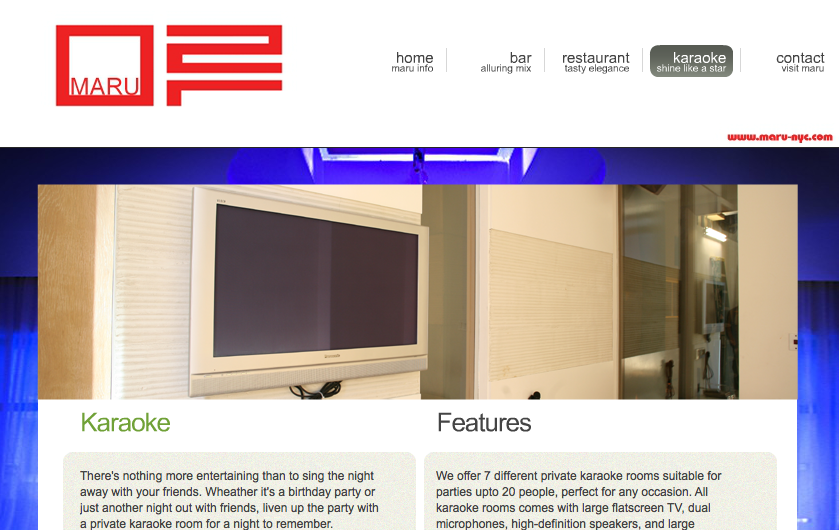 And of course there's a "behind the scenes" making of the commercial video. I particularly like second 13 where he's on his back chilling. I'm still amazing at how spotless the apartment is – what's her trick?!
 * Has anyone tried finding Maru's Fresh Step video lately? Looks like it's been removed?!