Imagine my surprise when I saw an email titled "Kittens Tackle Mountain Lion" in my inbox this morning.
It turned out to be a super adorable marketing ploy from Tekserve, a local computer sales and repair store, announcing Apple's latest cat-themed operating system, OS X Mountain Lion.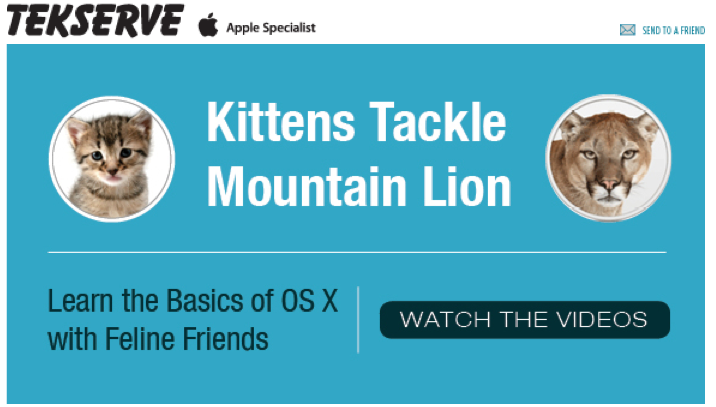 The email read:
"Since you need to know how to use the latest [OS X Mountain Lion] features anyway, we thought we'd make it as adorable as possible for you. Thanks to the Animal Haven Shelter for providing Cosmo and Margarita, our kitty talent."
The eight kitten-starring instructional videos cover updated OS X Mountain Lion functions such as Power Nap,
and Safari.

I actually absorbed quite a bit of information listening to the voice-over while watching Cosmo and Margarita frolic and nap on-or-around the laptop. Hopefully Animal Haven will get traffic and adoptions through the partnership.
These videos – and Tekserve – get two thumbs up from me. Now all I need is a new laptop with Mountain Lion on it!
For the non-Apple-owning, non-NYC-residing readers, Tekserve is the equivalent of an Animal ER for Macintosh owners.  Walk in on any given day and you'll find a group of stressed out adults clutching monitors, hard drives and laptops of various makes and models waiting for their number to be called so they can see the doctor technician. And I promise they all have one thing on their mind "Please tell me they can recover everything."