Do you get super productive or gain new abilities when you're buzzed? It's so nice to wake up to a sparkling bathroom you don't remember cleaning. And my French is flawless after a few glasses bottle of wine.
I recently discovered margaritas give me the ability to cook, and without a recipe even!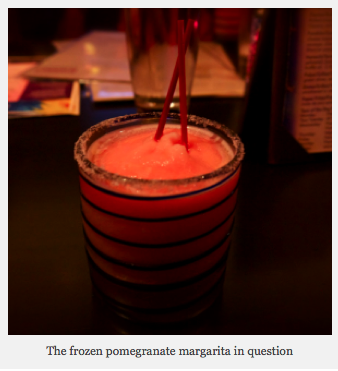 After a few three frozen pomegranate margaritas with my ex-roomie (and fellow cat woman) Christina, 10:30pm seemed like a perfectly reasonable time to clean and cook the vegetables I'd picked up at the Farmers Market that morning.*
Imagine my excitement the next morning upon realizing I had a yummy, tasty, healthy vegan lunch to take to work!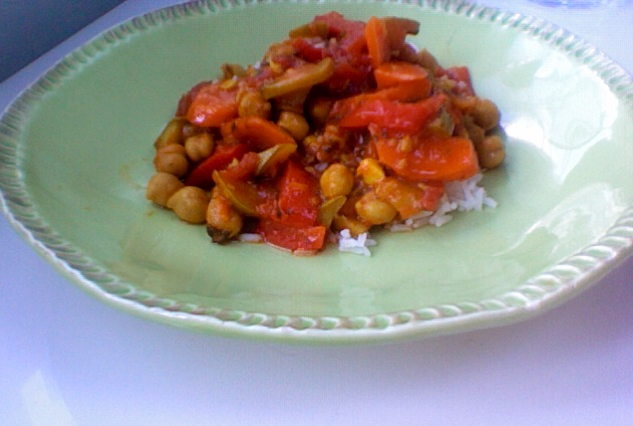 It seems I'm not the only one whose culinary skills come out of the closet when drinking. "My Drunk Kitchen" is a series of webisodes featuring a funny and charming young woman cooking while getting progressively drunker. Here's her video about cooking under the influence of margaritas tequila.
Do you do any unusual things when you've had a few (too many)?
Tamar's Drunken Summer Vegetables
Note: This is a loose recipe given the conditions under which the dish was prepared
Ingredients:
Squash of your choice (2 large or 4-5 small) I like the small and tender light green zucchini (also called Lebanese zucchini)
2 – Carrots
 ½ Red Pepper
Few Tomatoes and/or canned tomatoes
Water or vege broth (particularly if using tomatoes and won't have the juice from the tomatoes)
Fresh cilantro chopped
Can of garbanzo beans
Onion or garlic
Olive oil
Cilantro chutney (optional – I love the stuff it's so versatile, I put it in black bean vege burgers too – it has a little kick!)
Salt
Directions:
Heat up the oil and add garlic or onions
Chop up veges (not too small but not too big – maybe a little larger than 1/2 inch cubes?)
Add veges and tomatoes to the pan
Add approx 2/3 cup juice from tomatoes (if using can) or vege broth or even water
Let simmer with lid on
Check in on them periodically – will at least take 30 minutes
Pair with rice and voila!
*A special shout-out to Dorian (of Your Daily Cute) for seeing my plea on Facebook the night of my cooking adventure and calling me at 11:49pm from Florida so I could locate my Blackberry (which doubles as my alarm clock!). She's ready to help cats and cat ladies regardless of geography!