When traveling for business I've often fantasized of a hotel with a loaner-cats service.
"Yes hello, room service? I'd like to request the hummus platter a glass bottle of Gruner Veltliner, the down-alternative pillows and the tripod calico on page 12 please."
So I was particularly intrigued when I received a tweet from the Japan Society (333 East 47th Street, NYC)  saying they'd be hosting the North American premiere of the film,"Rent-A-Cat" (Rentaneko) on July 25th @7pm!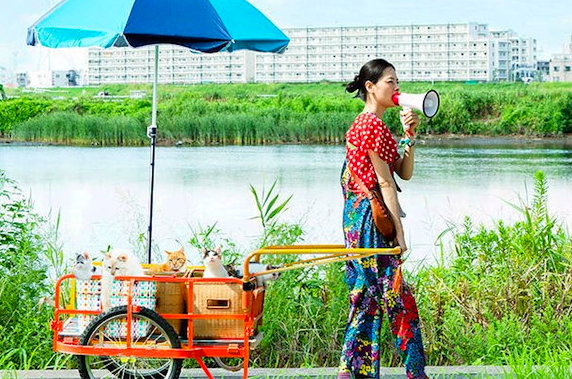 "Rent-A-Cat" is both written and directed by accomplished Japanese independent filmmaker Naoko Ogigami whose previous movies include "Toilet," and "Glasses." You can't make this stuff up.
The film revolves around Sayoko, a single young woman who pulls a cart of cats around town while making her sales pitch via megaphone "Cats for rent! Are you lonely? Why not rent a cat?"
"Outwardly the most stylish, coolly self-assured cat lady ever," writes the Japan Times, "Sayoko is inwardly a mess: wanting to marry but without a partner."  Thank goodness THAT doesn't sound like anyone we know.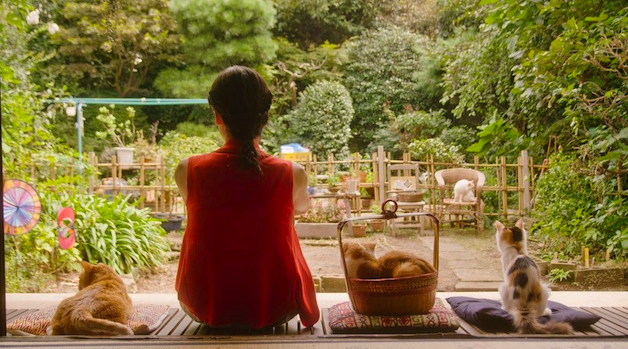 The film premiered at the Berlin Film Festival in May of this year where UK film blog CineVue described it as, "Tonally a million miles away from the dark subject matter of most of this year's lineup." But ultimately found the movie to be "a delightfully twee story of self discovery." (Well thank you Brits for teaching me a new Scrabble word.)
The "Rent-A-Cat" trailer, while in Japanese, is still super cute. I can't wait to check it out on the 25th. If you're in the city, let me know and we can all meet up!
I only hope it goes better than last years "Puss In Boots" premiere during which I was hauled out into the lobby for interrogation by the studio folks because of my brilliant idea to take a picture through the 3D glasses.  I was curious. I spent 10 minutes convincing them I wasn't a spy, just stupid!
NOTE: When I expressed concern about the safety of the cats, the friendly Japan Society Twitter folks informed me that in the movie potential renters do undergo a screening process. How adorably responsible of them was that!