As single New Yorker – with cats with a vibrant social life, career in advertising and (relatively) stylish mostly-black wardrobe, I fancy myself the anti crazy cat lady (C.C.L.). So I'd be lying if I told you several incidents of late didn't have me worried I was suffering the symptoms of early on-set C.C.L.
I present to you the evidence, and await your verdict with baited breath.  Are these the innocent missteps of a slightly distracted cat lover, or signs of something more sinister?
Upon seeing a local news segment about a cat rescued from a tree by a rather handsome man I wonder – if ever so briefly – if I can hoist Kip onto the tree outside my window from the fire escape. I mean the NYFD are quite a handsome bunch – or so I'm told.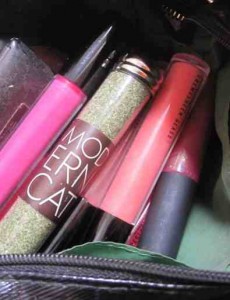 During a strategy session at work I reach into my make-up bag for lip-gloss and instead procure a vial of, wait for it…catnip. Thankfully I averted embarrassment by quickly stuffing it back into my bag. But I confess this isn't the first time I've found cat products where they don't belong.
Walking to work I noticed my summer dress had grayish tinge a few inches around the front hem. Upon taking a closer look I immediately identify the color as being distinctly Petie-grey. Seems he spent the winter rubbing up against it in my closet.
Preparing breakfast before work, I found myself pouring my Honey Bunches of Oats into a, wait for it…cat dish.  Thankfully I noticed before pouring the Almond Milk. Mind you my bowls don't even share a cabinet with the cat-ware.
Cleaning the living room windows I'm frustrated at my inability to remove the streaks. I finally identify the culprit as the NOse Offense PETS Air & Fabric Odor Eliminator I was attempting to use in place of glass cleaner. In all fairness to me, the bottles

do

look very similar from behind.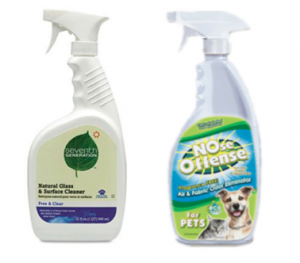 I can only hope the fact that I still recognize these as being slightly out of the ordinary means there's still hope for me.
Perhaps you can make me feel a wee bit better by sharing your own stories. Go on, don't be shy…
*The NOse Offense folks were kind enough to offer us a 15% off discount through June 4th, 2012. Just use the code IHAVECAT15  at check out and remember – it's not for windows. Or mirrors.  And yes, their products are fragrance-free and eco-friendly!