Like sneezes and celebrity deaths, cats named Max have came in threes this year. One of those Max-cats lived on the Upper East Side of Manhattan and was in need of a new home. A month ago today, thanks to two very special I HAVE CAT Facebook fans, Max found a forever home in Brooklyn complete with a a new sister! This, is his story.

Warning from the editor:  If you are unable to suspend reality you are urged to reconsider proceeding past this point.

Max: I'm not perfect. I know I've got some faults. So when I learned that I was getting a new family, I got a little nervous. Like tail-between-the-legs-when-no-one-is-looking kind of nervous. I'm kind of high maintenance.
Litter box scooped instantly, a specific napping spot, multiple hair brushings a day, and playing with toys in a particular way. Just to name a few.
Basically, doing everything with my own rhythm. So when I found out who my new sister was, I started to shed with excitement and concern.
What if she didn't like me? What if I slept on her sleep spot? What if she didn't want to share her humans. Rogue Kitteh is cat with a lot of character and I did not want to get on her bad side.
She has interests in socially meaningful things and pop culture. She's done sushi reviews, made remix music videos, and has even modeled (for the human's classes during undergrad). She's got followers on Twitter and Facebook and she's really smart. I've heard she can even open doors by herself!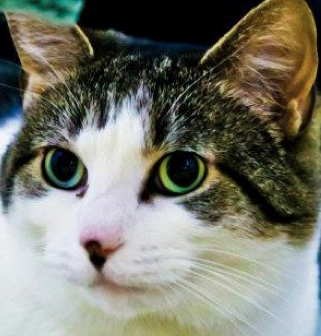 Like I said, intimidating.
My first day I just sat back and tried to give her as much space and not annoy her – though I admit I did mess up and user her litter box. Whoopsie! But now we're really good friends.
Rogue:
Max: I'm still the boss though.
Mmmhmm. (riiiiight). Oh! And the humans are pretty cool. The new mama works in a hotel, but has her Master's degree in Media Studies (maybe that's why she's always following us around with the camera or the video maker thing) and the new papa is going to school for Interactive Design making websites and stuff like that.
I think they're both pretty rad, but I think the man human's my favorite (because he drops more food and he is real good with the cuddles) They've known each other for years, grew up in a small town, were best friends, are really cheesy and goofballs.

The man has a lot of camouflage because he did army stuff, and although fashionably it's questionable, it's definitely comfortable to sleep on.
Rogue: So I was like, okay, I saw this I HAVE CAT post and I had to show mama. I thought having a brother would be cool, but I guess I didn't think about the logistics.
Like, brothers are cool and all but they're there ALL the time.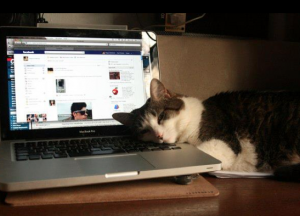 I forgot about that.  I guess it's okay though.
Some things have changed and are kind of annoying. Like he uses my box even though he has his own. And he meows (unlike moi), he doesn't have nails (weiiiird!!) and he sleeps in my fifth favorite sleep spot. But I guess that's okay.
Life's definitely different around here. I'm only four and a half and he's like eight, but he definitely acts like a bratty little brother! Both of us LOVE food and feather toys though, so we bonded over that right away.
Max: Well, we're still waiting for the humans to order sushi…. but yeah, they give us grain-free healthy food that actually tastes pretty good.
IHC: As you can see from the video below, Max was lucky enough to experience his first sushi between the time this was originally written and posted.
 Other than that, the humans are pretty good cooks and Rogue begs a lot, so I've been taking place as side kick on our dinner time adventures where we try to bamboozle the humans into dropping pieces to nibble on.
Rogue: We like to gang up on them a lot!
Max: Definitely. We play hide and seek games sometimes, but mostly we just torture the humans. The new mama works and the new papa goes to school and does army stuff in Manhattan, but Rogue and I just chill out in Brooklyn. We have a train to watch out the back window, a bird's nest to watch from the kitchen bedroom, and ice cream trucks and kids play out the front window.
Sometimes I miss my old mommy but I know she wanted what was best for me and found me a really awesome new home..oh right, and sister!  I'm really happy here –  it'll be four weeks on Thursday May 17th – and I have been so busy napping, playing, enjoying life, that I haven't even had time for a hairball!
Rogue:  I set up a Facebook account for Max and he's catching on pretty quick. You can follow our adventures— I'm Rogue Kittehski & he is Maximo Kittehski. Friend us!
IHC: I love this video so much I can hardly stand it. It was taken only days after Max(imo) was at his new home. His daddy thought he was taking a photo but – SURPRISE! It was a video! LOL! Rogue would like it to be noted that she was in fact there on the floor and not impressed. Look how sweet and comfy Max is looking up to his new mama!
A HUGE thank you to Max's new Mom Tanya for "translating" Max's story and sharing it with us! I think Max's parents deserve their very own blog post don't you?!