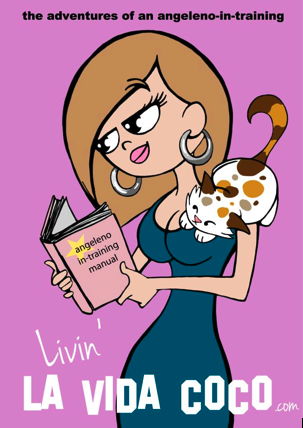 Today's Cat Woman Wednesday is written by "Coco," a super cool cat-loving chick who hails from New York.  Her hysterical blog Livin' La Videa Coco documents her journey as she adapts to the LA lifestyle while looking for a man with her trusty side-kick kitty Yazmeena. I may just have met my new cat woman crush! I hope you find her as refreshing and funny as I do -Enjoy!

                                       ***********************
hi tamar and fans of "i have cat,"
hi! my name is coco and i am a crazy cat lady…i mean a thirty *cough* gal with a cat.  i've never written a guest blog, so this is kinda a big deal! so much so that i got a manicure for the occasion.  fancy!
and while being excited and nervous makes me wanna swear a lot, i've promised my mother that i'll "use my words"  and by that, she means avoiding the "four-lettered" ones. so here it goes!
back in 1997, a younger and thinner coco moved to the united arab emirates.  homesick and bored, i would look forward to the saturday newspaper with a fervor that others who didn't know me might find a bit, well, weird. 
we look very pensive.  i'm assuming that we're both thinking about food.
you see, a local cat rescue committee called feline friends took out a two-page spread in the paper every week and listed all of the kitties who needed homes. while i had grand fantasies of adopting them all, i was only able to negotiate the adoption of one.
my BF at the time and i fell in love with the picture of a little white cat named lulu.  lulu!  squeee!  i cut out her picture and profile from the newspaper and put in on the fridge.  i then called the rescue group and proudly told them we wanted to meet sweet lil lulu asap, and that we'd be willing to make the 2-hour trip to meet her.
the nice lady on the line said that actually, there were a batch of kittehs that needed a home more urgently…and that they lived a mere 5 minutes from us.  i agreed to meet these other cats since they were in greater need…but was secretly sad that i wouldn't get to meet the white fluffball named lulu.
that is, until i met yazmeena.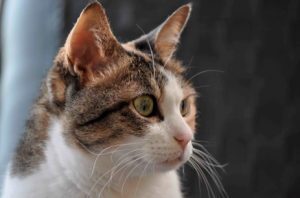 we made the trip later that day to meet this group of cats.  their humans were leaving to go back to the UK where they have strict quarantine laws, and they didn't want their cats live in cages for 6 months.  we first met their 3 pudgy sweet boy cats who the couple had had since their days in England.  since i could only adopt one kitteh and i had my heart set on a girl, i was eager to meet the princess of the bunch.
the nice couple told us how one hot summer day, they found this wee little desert kitten in an alley.  she was beaten up badly and cowering behind an abandoned refrigerator.  they scooped her up, nursed her back to health, and named her "yazmeena" (arabic for "jasmine")…and how she quickly became the ruler of her 3 adoptive brothers and her humans' hearts.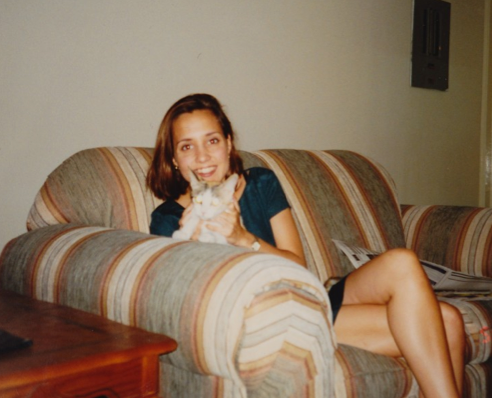 back when we were both younger and skinnier.  look at those big ears!
and just as they finished the story, yazmeena sauntered down the stairs with the airs of a princess.  she looked at us with both curiosity and judgement, and slowly walked over and brushed against my bf's leg.  the little coquette won us over immediately.  while we hated to separate her from her adoptive brothers, we knew she would be the hardest to find a home as she was a "local" cat with feral blood whereas her brothers were fully domesticated western cats.  so it was decided.  yazmeena would come home with us the next day.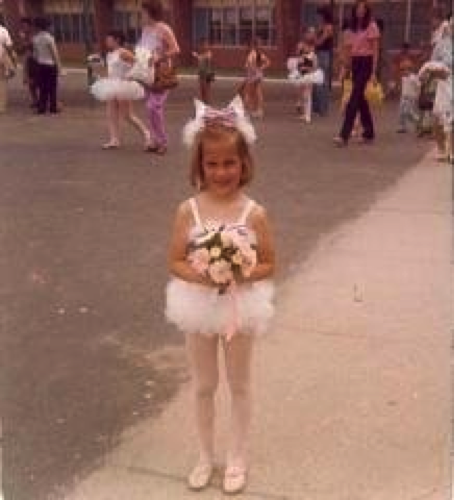 my first ballet recital…it was called "pussies in the well"…i kid you not!  the 70s were weird.
fifteen years, 2 continents, 12 apartments (yup, 12!), and a few BFs later, yazmeena and i are still thick as thieves.  in this wonderful adventure called life, she has been my one constant.  and it hasn't been easy at times…for example, there was the time she crawled into the the wall behind the washer/dryer for 26 hours without a peep…and the time she jumped down from a second story balcony and disappeared for two days….or…well the list can go on and on.
but she's become such a loving, sweet, devoted cat who meets me at the door every night, sleeps in the nook of my knees, and snores like a truck driver with a cold.  and while she's very shy with strangers, you can earn her trust and affection with time and patience.  a trait i've grown to admire.  and she's just freakin pretty!  just look at her!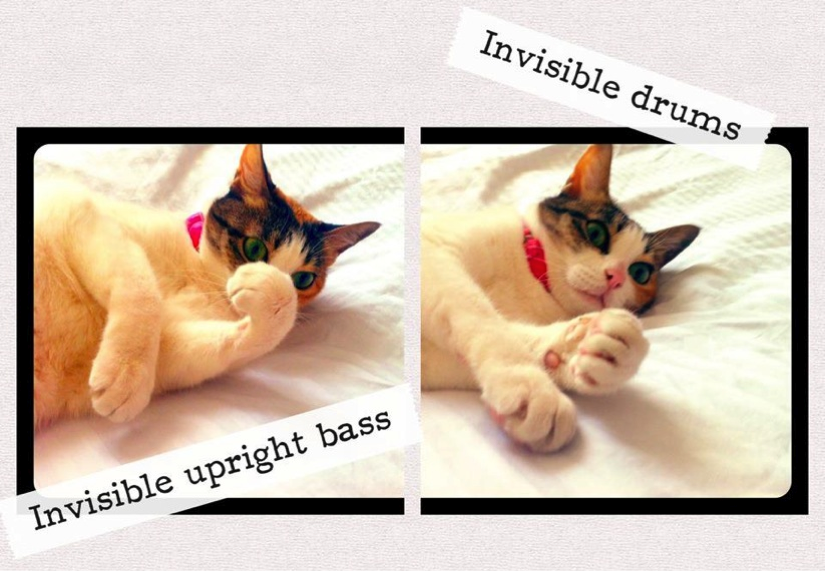 shades of yazzy.  the last one is my fav…mostly because i have a soft spot for musicians (male ones, of course).
for a few years now, i've blogged about the trials and tribulations of a thirty-something gal with a cat trying to find her way in hollywood (that's me!!!).  since 2006, i've been enjoying los angeles' sunshine, flirting with things like colonics and yoga and feng shui and mercury in retrograde, and trying to find "mr. right".
indeed, it's almost a full time job trying to figure things out in the land of swimming pools and movie stars, so i'm extremely glad i have my trusty side kick yazmeena.  and when i'm not working in public health or helping run a theater company, i'm planning my weekly caturday posts on facebook with more anticipation than is normal.  and when people ask, yes, i'm at complete peace with being "that girl with a cat."  and princess yazzy is at peace being worshiped by everyone that crosses her path.  all hail, yazmeena!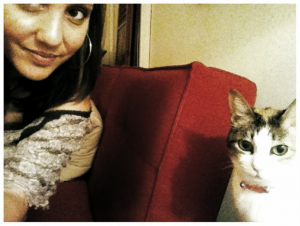 trying to get a pic with this cat is more difficult than getting lindsay lohan to adhere to probation.
to follow the adventures of yazmeena and coco (me), visit www.livinlavidacoco.com and join us on facebook.
happy hump day, y'all!
xoxo,
coco