When queen of cat women and founder of Moderncat Enterprises, Kate Benjamin offered to design an I HAVE CAT edition of her Modkicker catnip toys, I didn't think twice! I had so much time collaborating on the fabric pattern, and it was exciting to see the final product!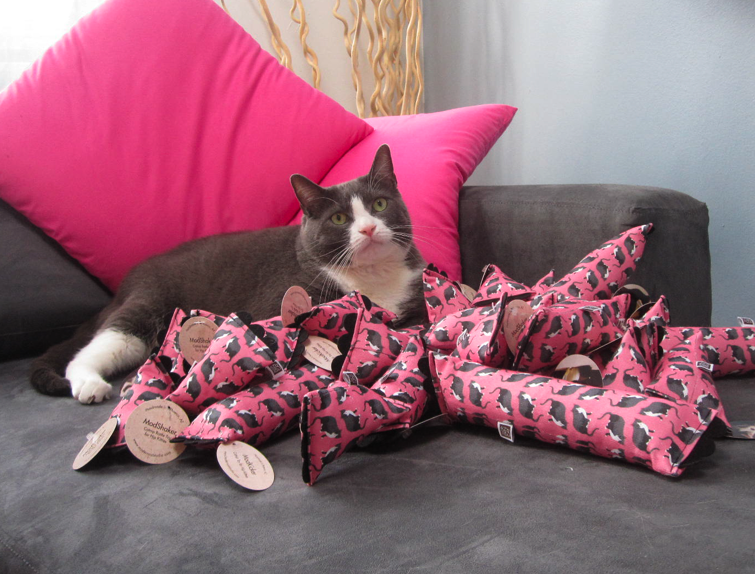 As you can see from the above photo, each cat toy has been checked by Petie himself for quality assurance (and to impart his scent). So now you can have a little-bit-o-Petie in your home.
And, not only did Kate design these fun catnip toys, but she has them made in the USA with organic catnip grown in Bend, Oregon.  So support a domestic business and buy one or three! They make great gifts!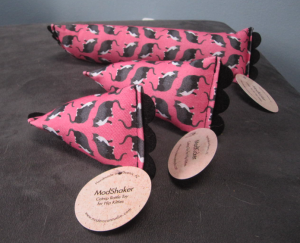 [Front to back: ModShaker, Small ModKicker & Large ModKicker sold out!]
But don't take my word, see what these happy customers have to say!
"OMC we luvz our newz shakerz tank!"– Erwin from Brooklyn, photographed below with sister Ginger (and Brindle in the background)**
"Merlin and Gracie were both attracted to their new IHAVECAT catnip toy!  I'd like to think they smell Petie…but I'm sure it's the cap nip.   They both took turns licking it and I'm sure that when Raven wakes up, she'll sit on it affectionately, like she does her other toys she likes." – Sharon from Bayside Queens (and Mother of Gracie from Vieques)

To get your paws on one of these fabulous toys, you can pay via PayPal using the email address tamcalinyc(at)gmail(dot)com, or send a check. Shoot me an email and I'll provide a mailing address.
Modshaker: 2.5″ x 3.75″ inches – $5*
Small Modkicker: 2.5″ x 4.5″ inches – $6*
Large Modkicker: 2.5″ x 8″inches  – $7* sold out! 
*For shipping to Canada and the U.S. add $2.00, and $4.00 for everywhere for first product. Add .50cents for each additional item.

**Note: Regular IHC readers might remember Erwin, Ginger and Brindle from a blog post written by their Mom Keri Blair titled "Married, With Cat(s)." Be sure to check it out if you haven't already.