Each day for the coming three days, I'll feature Christmas gifts you can get and give in a New York minute!  Today we're featuring the perfect last-minute gift for the wine-lover on your list.
I recently received my second wine shipment from The California Wine Club, after having convinced Jon Boring (son of founders Bruce and Pam) that cat owners spent a lot of time at home with their cats drinking copious amounts of wine. At least I do.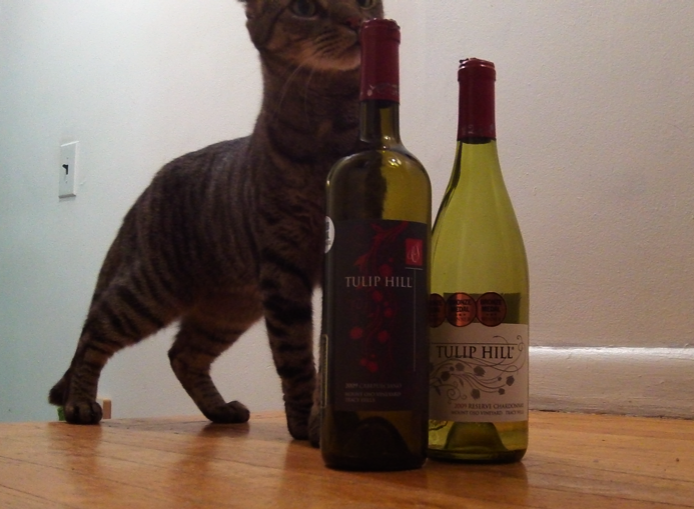 As you can see from the photo above, Kip has a very refined palate and appreciates the intensity of Tulip Hill's 2009 Cabepulciano on the nose.
Do you have a wine snob (or wine drinker) on your list? If so, you still have time to gift them with monthly deliveries of California wines.  The Premiere Club is only $49.45 and includes shipping and handling (anywhere in the US except Utah).
Your recipient will receive 2 bottles of wine for as many months as you select (from 1 month onward).
You can customize the gift to be 1 red and 1 white each mont or 2 bottles of the same white or red.
Have wine delivered each month, or to make it last longer, every other month.
Wine notes included with each delivery.
SATISFACTION GUARANTEE. If your recipient doesn't enjoy one of the wines they have received, they get a replacement bottle – no questions asked!
Read my first post for more details about the California Wine Club.  You can send the recipient of your gift an ecard or print out a post card from their website letting them know all about your generous gift. And don't forget, you can receive a 10% discount through 1/31/12 by using the promo code  ihavecat at checkout!