In my early 30s, having navigated many a registry for engagement, wedding shower, wedding and baby shower gifts, I decided enough was enough. For my Birthday that year friends and family received an email with a link to my Crate and Barrel registry* and a note that read "single people need plates too."
Well, your cats also deserve more than paper plates and mismatched orphan bowls. Plus, they don't look very pretty should a friend or suitor drop by.
So today I'm sharing a few of my favorite pretty and practical cat bowls and water fountains from ModaPet, Modern Cat Designs and Pioneer Pet.  Plus, IHC readers get a special 30% discount code for the Raindrop Fountain, and a chance to win a ModaPet bowl so read on!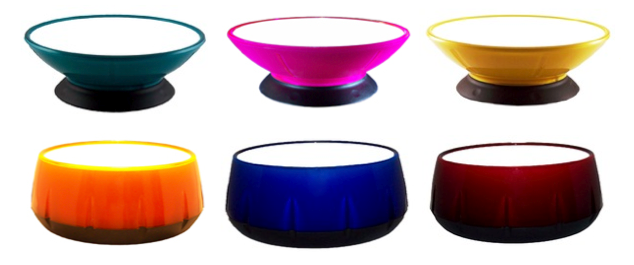 ModaPet describe themselves as an "US based company with Italian influenced design," the pairing of form and function.  And I have to agree. I love the color options (you'd think they were glass), shape and practicality. Key features:
Non-skid bottom (you won't find the dinner bowl halfway across the room and water sloshed about)
Wide whisker-accommodating design (I only recently learned that whiskers touching the inside of a bowl can be irritating to kitty)
Made with ABS food grade and BPA-free plastics
Dishwasher safe (they molded the rubber-like bottom to the bowl rather than using glue)
Reasonably priced at $14.99 for the smaller 2 cup bowl, and $24.99 for the large 4 cup bowl
For the holidays ModaPet is offering free domestic shipping (they ship internationally with a surcharge based on location sorry!). US residents (sorry again!) can enter win either the "Some Like It Hot" (pink) 2 cup bowl or the 4 cup "Cinnamutt" bowl by leaving a comment with your preferred bowl by 5pm EST 12/16. One entry per household please.
Modern Cat Designs, the company that brought you the Modern Cat Condo, believes kitties should "dine in style."  With the "Cat Bowl Tray" (pictured below) I no longer have to mess with place mats under the food bowls to catch spillage and I like how clean and tidy the feeding area looks. Two quips. The price tag ($59) and they need a 3-bowl model (hey, I have three cats!).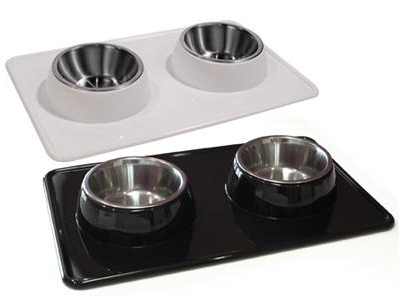 Key features:
Easy-Clean, lightweight ABS plastic
Silicone non-skid base
Removable stainless steel bowls (1 quart each)
Rim around the edge to keep food and water contained 
Wide whisker-accommodating design 
The Pioneer Pet Raindrop Design water fountain is hands down my favorite water fountain to date as my regular readers know well. I love the way it looks and how easy it is to clean (for a my detailed product review go here).

The Raindrop comes in stainless steel ($38) and white or black ceramic . I recently received a ceramic fountain to review and so far so good, up until now I've had the stainless steel version.
From now until 12/18, I HAVE CAT readers can get 30% off any Raindrop or Funshui fountains (US and Canada only – sorry!) by using promo code CatNYC at check-out. And, if you order by 12/18 you can have your fountain by Christmas!
* Back to my registry story. At the time, you could only create a registry for weddings. So  I had to put down the name of the person I was supposedly marrying. I put down the name of the only man in my life at the time. Yup. Kip. I wish I'd taken a screen grab.