Today's post was written by the beautiful (inside and out), talented, animal-loving high-school-teaching Sarah Menzies of Sydney Australia. Some of you will remember Sarah from the 
Cat Man Monday
 post about her boyfriend Dan.  Sarah writes a blog,
The Purr Diaries
  where she is currently raising funds for a local no-kill rescue the,
Cat Protection Society
.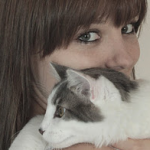 When I read Tamar's recent post "The Human Benefits of a Multiple Pet Household," I got to thinking that it isn't me that needs convincing to get a third cat (I hate even numbers) but another member of my household. So I compiled my own list titled "Benefits of a Multiple Pet Household for Boyfriends!' (And by multiple I mean more than 2!)
While the list below is directed at a certain someone I live with, I'm sharing it with you in the hopes boyfriends – and husbands – everywhere will come to understand the necessity of an additional cat for the well being of their relationship.
Ten Ways Your Boyfriend (or Husband) Will Benefit From a Third Cat
Much more time can be spent

surfing and fishing

* with less complaining from your girlfriend.  *insert relevant outdoor/away-from home activities here.
You won't have to hear "I want another kitty" for a long time (well, at least not another year or so).
You'll be empowering your girlfriend to do good by saving another life if adopting from a shelter (which I'm an advocate for!).
When we go out of town, your girlfriend will worry less that the cats aren't happy without her, and therefore be less likely to annoy you while she frets over the cats the whole weekend
Wanting to spend more time with the cats, your girlfriend won't drag to the shopping mall in an attempt to fill the third-cat-void with material things. This in turn will save money.
There will be no issues if you want to

watch more sports on TV or play Playstation*

, because your girlfriend will have even more kitties to distract her attention!  *insert relevant indoor activities here
If you need to go out of town, your girlfriend will feel safer with three cats at home. (I mean look at Gwen Cooper, author of Homer's Odyssey – if she'd never adopted that third kitty she may have been raped or murdered when an intruder broke into her home. Adopting that third cat literally saved her life!) 
When your girlfriend is out of town there'll be more cats for you to cuddle/talk to/play with/ make you laugh.
Your cats will be happier. And don't deny it, you love those little fur balls, and their happiness is important to you too!
Okay, if they aren't buying the argument this far, #10 is guaranteed or your money back!
You'll have a happier girlfriend – and a happier girlfriend means a happier boyfriend. Right?