When I purchased a carpet from Fab.com (yes I'm obsessed), I didn't worry about potential cat stains. If anything posed a viable threat to my Petie-palate hued rug it was my red wine habit.
But just a few short weeks after its arrival, Kip decided to christen it with a slimy blob of wet food (grody!). I gathered as much of the goop as I could with a paper towel but was unsure of how to proceed. Wine stains I could handle, this had me stumped.
Then I remembered a product sample I'd received in my Blog Paws goody bag the previous weekend. I dug into the depths of my closet where I'd thrown it so the cats couldn't get into it (lots of food and snack samples as well) and procured a single BISSELL Stomp 'n Go pad. I didn't have high hope but I'll let the photos below speak for themselves.
Never did I think I'd use the thing let alone write about it. You can imagine how thrilled the BISSELL folks were to hear about my experience when they followed up to see if I'd tried the sample.
So thrilled in fact, that they're offering free BISSELL Stomp 'n Go samples to the first 20 people who email me at ihavecat(at)gmail(dot)com with their mailing address and "Stomp" in the subject line. Hey, free is always good right? What do you have to lose? SORRY GIVEAWAY IS OVER!
If you don't get a free sample never fear, you can either download a coupon for $1.50 off one package or receive a refund of $5.99 after purchase.
Each box contains 5 pre-moistened pads and runs around $6.00. Granted they aren't super cheap or environmentally friendly since they aren't reusable, but they're good in a pinch, and you don't have to worry about pets walking on harsh chemicals (the side facing up is covered in plastic).
And through 12/2/12, you can enter BISSELL's Facebook contest for a chance to win a variety of BISSELL carpet cleaning tools.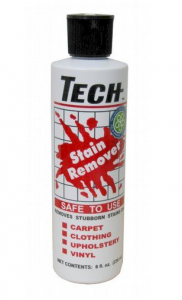 As for red wine stains, the Stomp 'n Go claims to works on those as well Maybe they'll send me more samples and I'll try it out.
In the meantime, my go-to for removing red wine stains is Tech Stain Remover
($4.oo), basically the same as Wine Away
but cheaper and potentially easier to find in your hardware store.
Good luck and if you have any tricks for removing either pet food stains or wine stains we'd love to hear about it!
I want to make it very clear that
I did not receive any payment for writing about this product
. In fact BISSELL never asked me to write about it, they merely provided a free sample for Blog Paws attendees and I was so surprised at how well it work I had to share!