When Kip places a paw firmly at the base of my red wine glass and inches it precariously close to the edge of my coffee table – all the while staring me straight in the eyes – I have to wonder what's going on inside that furry noggin.
Turns out New York City artist, comedian and cat man Christopher Rozzi pondered the same question. So he combined his talents to create Tiny Confessions where he sells prints that venture into the deep recesses of the feline mind.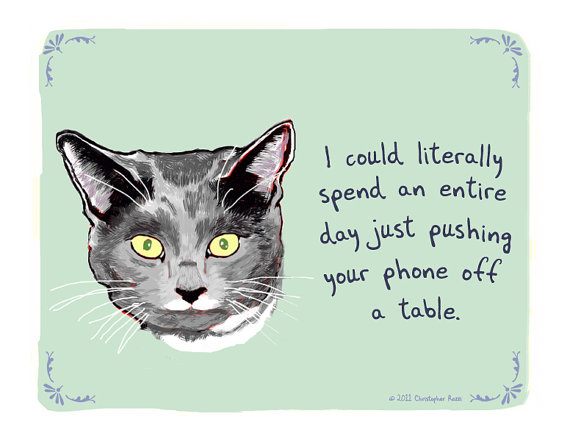 "I think it's fun to imagine a cat's confessions," says Chris, "because they're naturally mysterious. They could look like they are just sitting around staring into the abyss and yet they might be thinking 'I freaking love the fresh scent of my new litter'."
Personally, I believe Kip's deepest admissions are more along the lines of "Another foster?","Dare me," or "I will kill you in your sleep" (but only when I try to hold him).
Keep reading to find out how you could win a custom Tiny Confession staring your feline (everyone is eligible)!
Chris believes "All animals have their own distinct voice which, if we listen closely to, can give us a good laugh."
Could your cat's psyche be the next mind Chris mines for a Tiny Confession? One I HAVE CAT fan will win an 8×10 print of their kitty, painted by Chris, paired with a custom confession.  Whether you'll find it it funny is TBD.
Here's how to enter (read carefully):
Find a clear head shot of your cat without any facial features cut off (ears etc).  IMPORTANT: Photo should be close-up and straight ahead or 3/4 angle.
Email photo to ihavecat(at)gmail(dot) com with the subject line "Tiny Confessions."
Only ONE submission/photo per household (sorry, trying to make it fair!)
Entries must be received by

5pm EST Thursday October 6th, 2011

Contest open to everyone regardless of where they live (yay!)

Qualifying photos will be numbered in the order they are received and a winner will be chosen using random.org and announced on or before Monday October 10th 9am EST.
The winning Tiny Confession will be available to for purchase on Etsy, so you can make sure all friends and family get a copy!
Look around and find a kitty. What do you think he/she is thinking at this very moment?