This guest post was written by Claudia Tietze, an amazing woman I had the opportunity to meet in the flesh in DC last year, after several months of corresponding online.
I often wonder what "less adoptable" means.  As the owner of a differently-abled cat, Tiny Timmy who has neurological damage from over-the-counter flea and tick products, I think it means wanting the perfect cat as seen in Cat Fancy.
Isn't that similar to the perception of human beauty in as a size 2 air brushed supermodel? Imagine if we didn't associate with people who didn't fit that specific narrow definition of beauty. It'd be a pretty lonely and boring existences don't you agree? It's our "imperfections" that make us special in our own way (Right now the song "Vogue" is going through my brain, kitty style!).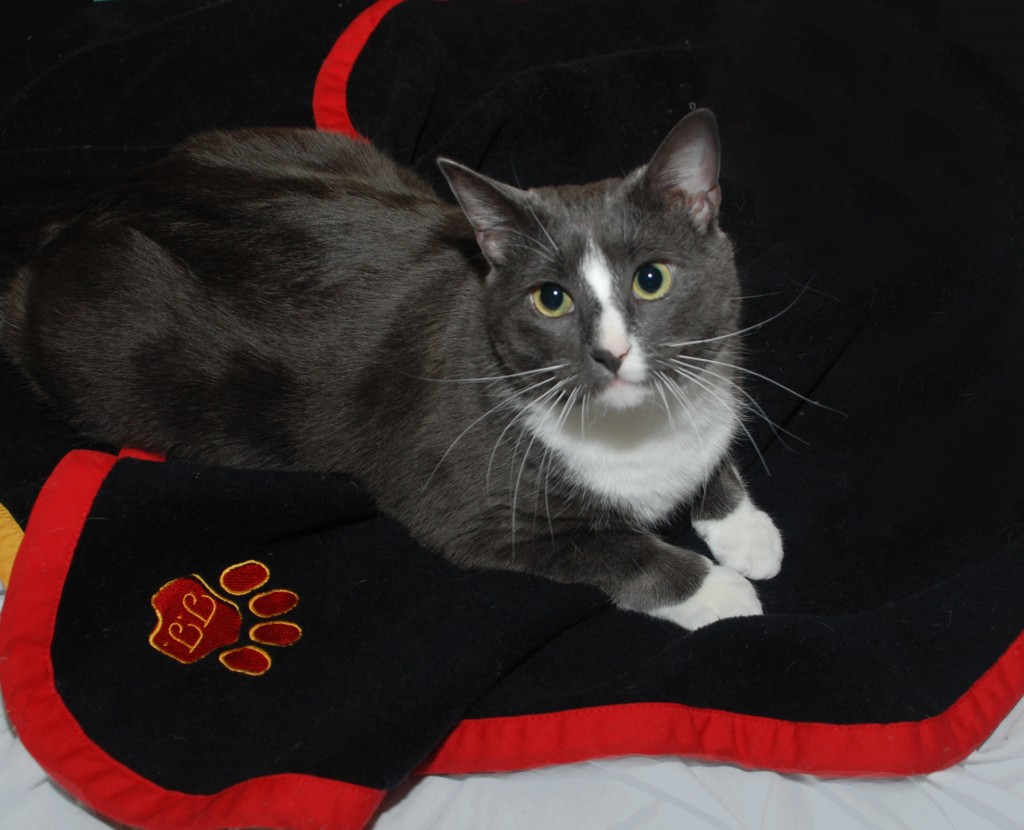 Tiny Timmy's story is one of an extraordinary Healing Journey, which we have shared to inspire and educate thousands across the globe.
When we rescued Timmy we were told that he had a "muscle disorder." The people in what we now call The Bad Place claimed the vague diagnosis of "muscle disorder" came from a vet, but when pressed for the records they admitted never having taken him.
Timmy was so ill when we rescued him; he could hardly keep his head up, could not stand and could not walk. We flea combed then bathed him while he hung limp in our hands. Despite their claim of "no fleas" and having used a cat flea spray on him to the point where we could feel it on his fur, we pulled over 350 fleas off of Timmy's tiny body.
They'd give us the flea spray bragging it was "two bucks at Wal-Mart." It was clear to us that Timmy's issues had less to do with a "muscle disorder" and might be some sort of illness. We bathed him, removed the fleas and rushed him to the vet, bringing with us the bottle of flea spray and the soap we used to bathe him.
The vet took one look at Timmy and asked about the flea products. She said Timmy had a classic toxic reaction to the spray. She did not believe that Timmy would make it 48 hours even with care at the ER because of how severe his reaction was.  Instead of taking him to the ER, we took him home to comfort him and watched for signs of major seizure.
Timmy had a spark in his eyes that said he felt his life was not ending, but just beginning. He surprised us all. The little kitten not given two days to live has just celebrated his two-year birthday and rescue anniversary! He not only survived, but he thrives!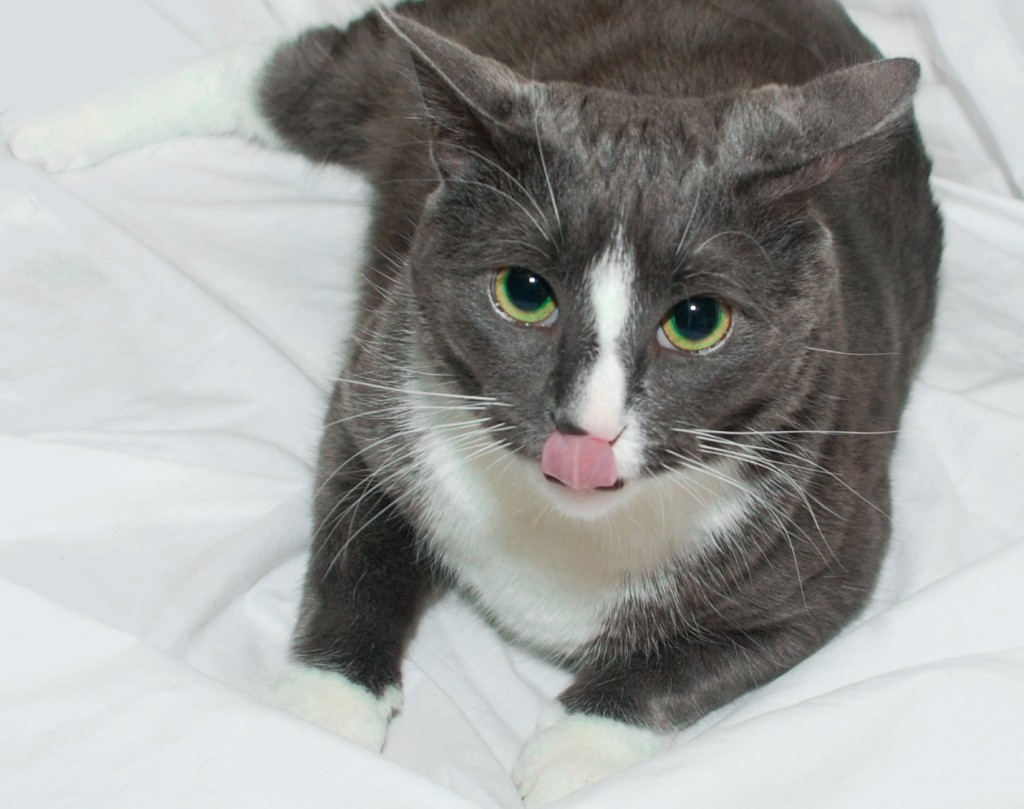 To the critical eye, it might seem that Tiny Timmy has "imperfections."  He's a gray and white harlequin tuxie and will never be featured on the cover of Cat Fancy. He wobbles when he walks, has small focal seizures and minor tremors – all much improved from when he first came to us. I can honestly say that Timmy is PERFECT in every way just the way he is. Not one day goes by that Timmy doesn't bring warmness to our home and a smile to our hearts. He is very open and loving, playful, happy, fun and such an inspiration to us, and thousands of others across the globe.
Timmy is my hero. He has done so many things that no one believed he could do. He's climbed up to the top of his four-foot scratching post, leapt up onto the bed and learned to run nearly without a wobble. He is a great bug hunter. He continues to amaze us and make us grateful for him every day.
We had never had a disabled cat in our home, but now we could not imagine a life without Timmy. His determined tippy-tapping marching across the floor, or his singing when he wants noms or an "airlift," or the way he cuddles by our heads at night, falling into a deep and restful sleep, dreaming kitty dreams. We are blessed to have an excellent holistic vet who believed enough in Timmy to try acupuncture for some of his issues, but also to help him regain functioning (Thanks Dr. Jeff at Hawthorne Vet Clinic!).
Timmy has also opened my eyes to the widespread manufacturing of toxic flea and tick medicines that are legally on the marketplace.  Because of Timmy I am fueled by a new purpose to raise awareness of this problem and have been meeting with the EPA and other key stakeholders to try to get these products off the market and make manufacturers and retailers more accountable.
Thousands of pet owners have unknowingly treat their pet with products they assumed were safe only to learn the hard way they were sorely mistaken. Literally, tens of thousands of cats & dogs have adverse reactions to these flea & tick products every year.*  Timmy is now a Spokes-kitty educating pet owners and advocating safer alternatives. Along the way, I've meet thousands of kind, amazing, generous animal lovers both on and off-line. All thanks to Timmy, our adorable differently-abled kitty.
When you decide your home needs another cat or dog, I hope that you will look to those animals that truly need you. The ones who are blind, deaf, FIV +, have limbs amputated or are wobbly for whatever reason. You will find your life is richer and heart is fuller for having allowed these precious ones to bless your life. We would not hesitate to adopt another kitty with special needs. Timmy has been a true gift to us.
* The EPA said it received 44,263 reports of harmful reactions associated with topical flea and tick products in 2008, up from 28,895 in 2007. Reactions ranged from skin irritations to vomiting to seizures to, in about 600 cases, death of an animal. Source:CBS News online (March 2010)
MORE INFORMATION: Learn more about these products & find a list of safer alternatives at http://www.tinytimmy.org/fleas/alternatives/
To learn more about Timmy's Story http://www.tinytimmy.org/timm or see his videos http://www.tinytimmy.org/timmy-tv
Also, please join Tiny Timmy's Healing Journey on Facebook and be a part of our interactive tribute to the human-animal bond with our new project at http://www.timmystones.com