I am well aware that cats are obligate carnivores so don't go posting comments calling me an animal abuser.  I'm taking creative license to prove my point. This lasagna is darn good.
When I put a call out for vegan lasagna recipes my dear French friend sent me a cheese laden recipe that did not involve meat. When i explained to her what vegan meant she just responded "without cheese?" I'm convinced even she would enjoy this recipe.
Before I go into the super easy recipe for this delish lasagna I want to address a reader comment questioning my ability to "flirt with vegan" when I'm not even a proper vegetarian (I'm a pescatarian).
Being vegan is something I aspire to. I'm flirting with it, I haven't committed to getting married – we aren't even going steady. For a long time I felt that because I wore leather (I make a conscious effort not to purchase new leather products) or ate cheese I was a failure at living a kind life.  But that's like saying fostering doesn't matter because I can't save (or hug) every cat.  Baby steps. If I don't tell myself baby steps are okay then I'll feel too overwhelmed and I won't change at all.
What are your thoughts? Am I being hypocritical because I still eat fish but write about vegan restaurants and recipes?  How do  you incorporate vegetarianism or vegan-ism into your life.  Is it a zero-sum game?
In the meantime, back to the business at hand.
I HAVE CAT's Vegan Lasagna Recipe
Prep time: 20 minutes; Cook time: 30 minutes
Ingredients:
1 package firm tofu (I buy organic because it makes me feel better)
Ready-to-cook lasagna noodles (Couldn't find whole wheat unfortunately)
1 package frozen spinach (Don't buy chopped frozen spinach. Just trust me, it's impossible to drain).
1 package button mushrooms (any mushroom would be divine)
Vegan italian sausage crumbled: 1-3 links depending on how "meaty" you want it, I used Tofurky since that's all my grocery had (I bet ground soy or mashed-up Trader Joe's meat-less balls would work well too!)
Fresh basil (handful)
2-4 cloves garlic
2-3 tablespoons olive oil
1 can (24-26 oz) of pasta sauce (If I'm not making my favorite is Rao's Eggplant Sicilian Sauce)
1 cup Daiya vegan mozzarella cheese to sprinkle on top
1) Defrost spinach and squeeze out excess water. Add to bowl with tofu (squeeze out as much of the water as you can using a clean towel) and add chopped basil. Mush them together with your hands. Set to one side.
2) Wash and chop mushrooms, crumble/smash vegan sausage. Set aside. If you have an electric oven preheat now to 450 F.
3) Heat olive oil in a saucepan with crushed or finely sliced garlic. As garlic begins to turn a light brown, add mushrooms and "sausage" and sautee until mushrooms start to wilt. Add tomato sauce.
Now just  start to layer. Noodles, tofu mixture, sauce mixture, noodles again and so on. I like to top it off with sauce and the Daiya cheese.
Cook covered with aluminum foil for 20-25 minutes at 450 F;  then uncovered for 5-1o minutes so "cheese" melts.  Let sit for 5 minutes then dig it! Makes wonderful leftovers if you freeze.
Do you have a vegan recipe you'd like to share with us? Post it in the comments section!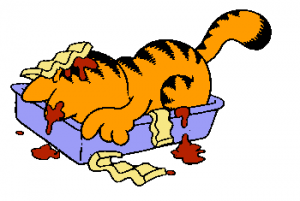 PS – Now I'm pondering why Jim Davis pick lasagna as Garfield's favorite foods in the first place? I can't find an answer, though I did learn he was not a fan of raisins or spinach. Shame really.
PPS – I saw a few vegan lasagna recipes that called for nutritional yeast. Any clue what that would be for? Somewhere I read it gives the tofu a "cheesy" flavor.