As I've stated previously, I do not believe people need abandon their personal sense of style just because they are cat-lovers. I want my apartment to announce itself to friends, family and suitors with a resounding,  "Hello, an independent sophisticated woman lives here" not "Meeeoooooow, welcome to Casa Cat.
Now that I've hit the "big 4-0," I've decided it's time for a proper adult apartment and plan on chronicling my journey as I redecorate in a manner that is both stylish and cat friendly.
Along the way I'll share the fun and functional cat products I find – along with discount codes and giveaways – as well as tips I've picked up from others or discovered on my my own. I decided to start with the living room. First up, modern cat shelves from Urban Pethaus.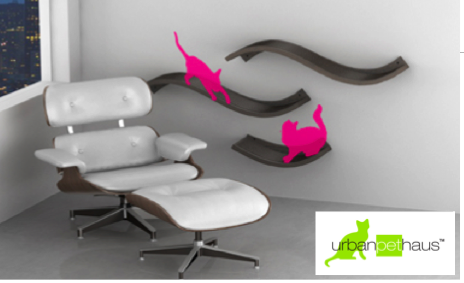 Mounting shelves instead of taking up precious NYC floor space with cat towers appealed to me, but I hadn't seen any I liked enough feature prominently in my home.
Read on to find out how to get your very own Urban Pethaus "wave perch" shelves for 25% off  +  FREE SHIPPING only through IHC.
These shelves fit the bill, and the large 20'x 14′ cafe-ole colored wall in my living room seemed like the perfect place for them. Yes, the chaise is covered with a throw because it became one huge scratching post (we'll get to that in another post).
The Wave Wall Mounted Cat Perch comes in brown with brownish-maroon felt padding in large: 44"W x 10"D x 8H" and small
: 22″W x 10″D x 7″ H). I was impressed by how solid they were and knew I needed a handyman given their weight and my inability to find studs (insert joke here).
One thing was for sure, Jackson Galaxy would be proud of me since he believes  cats need high perching spaces from which to survey their land.  Just remember if you install shelves be sure the kitties can get to them (my guys jump from the arm of my kitty-tattered chaise lounge).
Kippie (my curious kitty) was not surprisingly the first to check them out, but I was curious to see if it was just a novelty or if he'd use them for the long-haul. I'll let these photos – taken over a 4 week period – do the talking.
In terms of how they look, friends who've seen the shelves sans cats, love them thinking they are there purely for decoration. Kind of funny that while I don't like cat-themed decor, I don't mind using my cats as decor! 
Should there a question of how much weight these shelves can handle, we can say for certain the small shelf can accommodate 20lbs and the larger one 30lb.
The cats and I are both  thrilled with these shelves. There's nothing flimsy about them and they seem well worth the price. And, from now until SEPTEMBER 23, IHC readers can get 25% off both Urban Pethaus "wave perches" PLUS FREE SHIPPING  (USA only).
That means you can get the large shelf (normally $149.99) for only $112.00 by using the code havecat2 and the small wave  (normally $99.99) for $75.00 using code havecat1. 
The only issue I've had thus far is with my cats scratching the felt padding. Now the Folks at Urban Pethaus selected felt as the padding/liner specifically because it's not an attractive scratching surface for cats. Apparently my cats never got that memo, so I'm a bit worried at what the shelves will look like over time.
They don't sell replacements but Marvin from Urban Pethaus suggested I look into FLOR carpeting and was kind enough to offer to send me a sample to test out. For the time being I'm going to leave them be but I'll let you know what happens down the road.
As always, I want to hear from IHC readers.  Share stylish pet products you want me to check out and tips on how to keep our sweet four-legged babies from destroying our furniture so we're not relegated to cat fur laden throw-covered furniture!
PS – Not only are wave perches made of eco-friendly materials, the boxes they ship in can be recycled into a cardboard kitty wonderland!
As a friendly reminder, if you don't already "like" I HAVE CAT on Facebook be sure to come check us out! We are over 28k cat lovers strong and we'd love to have you join us and share pics of your furbabies!