Rick Horowitz is a prolific man who's held many titles: Emmy award winning-commentator, adjunct professor, lawyer, writing coach and radio personality (just to name a few).  Cat Man was certainly not a title he'd ever envisioned holding.
***
"I'm way too old for this. Nobody gets his first pet in his sixth decade," writes Rick. "I'd always known pretty much everything I needed to know about why I wasn't remotely the pet type."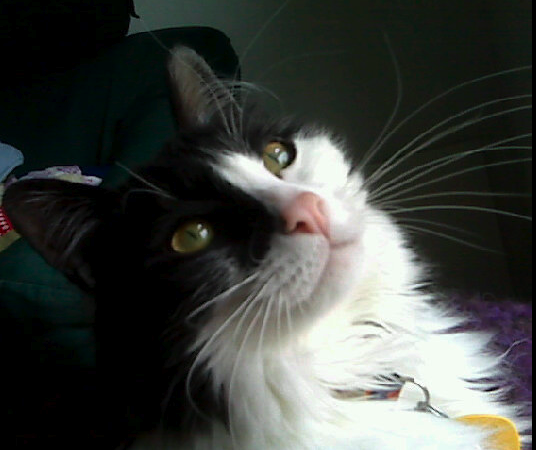 "And then we got Dustin."
In his recently published Huffington Post article "He Was Only A Cat," Rick tells us how Dustin D. Cat, the cat that only his "marriage-mate"originally wanted, wiggled his way into this middle-aged pet-virgin's heart.
"It was ridiculous. Cats value their independence. (Why does that sound familiar?) Cats don't need human company. They certainly don't enjoy human company. But nobody had told Dustin."
Rick dispels what cat-lovers already know to be a myth, the idea that cats are not social creatures and tolerate humans merely for food and shelter.
"He hung out with us — and not just for the food and the treats…When repairmen arrived, he greeted them at the door, and then followed them to the basement to watch them work their magic…We talked about how convenient it would be to have a plumber's apprentice living right on the premises."
When we open our hearts to another being – human or animal –  we are changed. Relationships change the way we see, think about and interact with the world around us. They enrich our lives and bring us great joy and comfort, but by their very nature will also inevitably bring us pain.
The loss of a companion animal is something I've yet to experience. And until I had cats I never really understood what those who lost a pet were going through.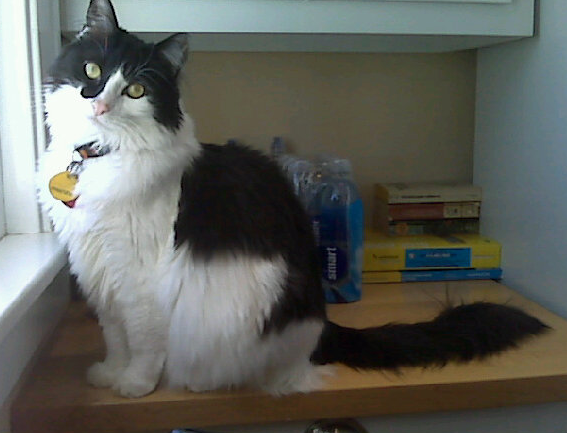 Rick writes about hearing that his beloved cat Dustin has been diagnosed with cancer.
"What seemed reasonable to the two of us? For the two of us and Dustin? Kitty chemo and kitty steroids seemed reasonable, and then kitty MRIs and kitty CAT scans (insert your own joke here) and — I'd become the people I'd always snickered at.  Suddenly I understood."
I encourage you to read the entire article, "He Was Only A Cat" from which excerpts were quoted in this article.
When I requested photos of Rick with Dustin he replied,  "there don't seem to be any pictures of Dustin and me together – when we were playing together, I guess we were too busy playing to stop for pictures.  Likewise when we were relaxing together."
While I would have loved to see them together, I found his response very touching. What a lucky cat Dustin was.
Rick can be reached by email at rickhoro@execpc.com.
___
Are you a Can Man or do you have a Cat Man in your life we need to know about? Send a 400-700 word post with photos to ihavecat(at)gmail(dot)com for consideration.
___
Reminder to vote I HAVE CAT for Best Social Integration Blog TODAY and everyday (up to 2 times a day) through 7/29 so we can win $1,000 for City Critters, my local New York City kitty rescue group!  Share with your friends, cross post and set reminders to vote each day! THANK YOU!