Cat fur that is – or is it cat hair?
In honor of Hairball Awareness Day, we decided to have a little fun with cat fur hair. Meet Herman and Harriet, two NYC subway mice!
My love affair with the FURminator is no secret (I don't work for them or get paid to say that). I brush my kitties obsessively frequently because of my desire to be a cat-hair-free cat lady.
But who knew cats spends 30% of their life grooming and in the process ingests about 2/3 of the hair they shed? Ick! Seems I was doing my cats a service with my obsession love of brushing.
Cats shed their dead undercoat so a new coat can come in. Spring and Fall are heavy shedding seasons but indoor cats who don't have the benefit of nature's cues tend to shed more all year around.
While watching your cat cough-up a hairball can leave you feeling helpless, not coughing them up or pooping them out can lead to intestinal blockages that could require surgery!
The FURminator folks say that by using their brushes regularly, you can reduce shedding by up to 90%.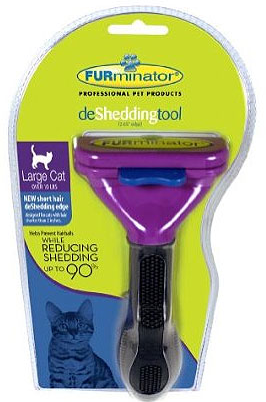 Don't believe them? Here's your chance to put it to the test by entering to win a FURminator of your (cat's) own!
Leave a comment telling us if your cat is large or small, long or short haired.
You have until Tuesday May 3rd 5pm EST to enter.
One entry per household, winner will be chosen using random.org.
SO SORRY but U.S. residents only  (sorry!).
Wondering what to do with all that cat hair once you have it off of kitty?
Well recycle it of course! It's yet another way to go GREEN with kitty!
Donate cat fur to a cat-less friend who's having mouse trouble. The scent of cat fur stuffed into the floor boards, cracks is supposed to keep them at bay.
Leave hair out for birds to use as nest building material (so soft!).
Send it in to the US editors of "Crafting With Cat Hair." Seriously.
"Send in some cat hair and make sure you include your cat's name and photo. When the book's publication date gets closer, I'll feature several of your proud, hair-donating kittens on the (soon to be) re-launched Quirkbooks.com. Margaret and Katie may even make a little framed portrait of their favorite kitty, to be published online for the world to see."
Address your cat's hair to  Quirk Books C/O Margaret & Katie, 215 Church Street, Philadelphia, PA 19106."
– From Irreference:
And as far as cat hair vs fur debate, the best explanation I've heard so far is "If it's on the cat it's fur and if it's on you it's hair."
To see more creative cat hair art check out PeoplePets.com.