I'd like to think that being a good cat Mom doesn't necessitate a living room furnished with beige or light blue carpeted cat condos.  As I've said in the past, I'd like my apartment to read "sophisticated single woman with cat (s)" not "crazy cat lady."  So I'm always on a quest for cat accessories that both the cats and I love.
The moment I saw Pei Pods I knew I  my cats had to have one.  There's just something about their Easter-Egg-like shape and colors that make them irresistible. Plus, it's a cat bed that easily doubles as modern art.
Welcome to my crib.
The quote from the company website says it all.  "We love our pets. We love our homes too. Not as much as we love our pets, but you get the idea." I couldn't have said it better myself.
I presented the kitties with their egg a few days before Christmas. Originally I worried about Petie's ability to fit and lounge comfortably (the website says it can accommodate up to 13lbs). As it turns out I had nothing to fear, all 20lbs of cat made it in with ease.The unexpected surprise was finding that one of the kitties mistook it for a litter box and peed in it. Can't blame them really, given the oddly shaped litter boxes in my home (what I put them through!).  After the necessary cleaning – the pad held up well in the wash – I tried again. Success!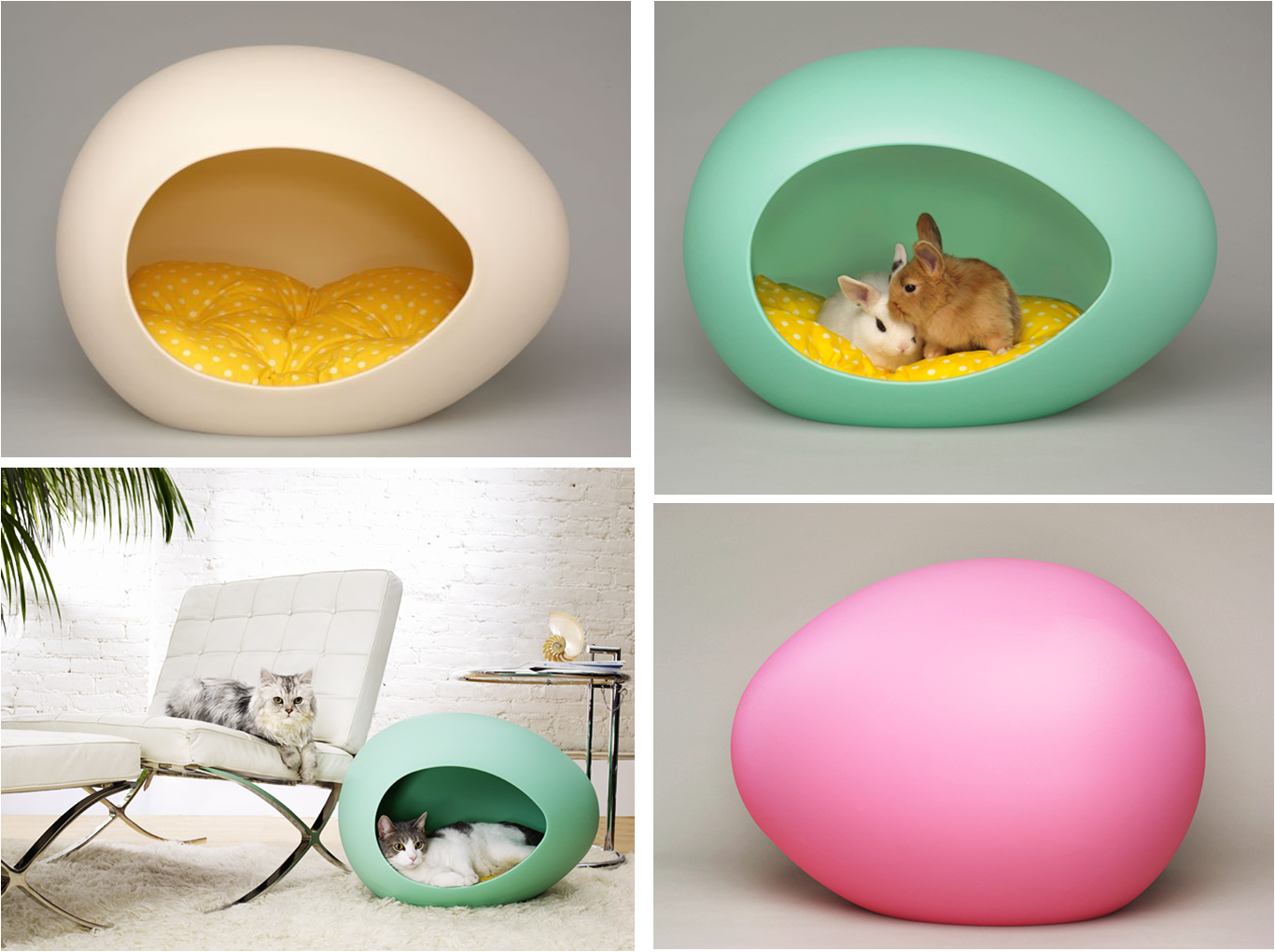 According to the website, "The rounded design mimics cave like sanctuaries that animals gravitate instinctively toward for protection and relaxation." Well they must be on to something because Petie, my husky timid kitty has been spending a lot of time in there. It's nice to have him in the pod versus the closet or under the bed when we have guests over (I placed it at the top of the stairs so he can peer down at us).
My cats aren't really cat bed types, and they don't sleep in their pod but they like chilling in it. Not only are the Pei Pods super stylish and sleek, they're also sustainable. The pillow is 100% washable (thankfully!) and the pod and pillow are fully recyclable.
Pei Pods sell for $129 and come in pink, mint, and ivory with either a yellow or pink cushion. They've only recently become available in the US and at the moment, shipping to the UK, and US is free!
Let's just say if they made them in human size, I'd be very tempted to get one.
Hey now…
NOTE: I received no payment other than the product for review. No strings attached.